Birthdays at Pacific Park
Celebrate your birthday at the Santa Monica Pier and enjoy a free ride on any one of Pacific Park's 12 amusement park rides including the Ferris wheel, roller coaster, and Shark Frenzy*.
What's a better way to celebrate your birthday than taking a ride 130 feet over the Pacific Ocean on the Ferris wheel at Pacific Park on the Santa Monica Pier? At the top of the world-famous Pacific Wheel, you can take in the sights from Palos Verdes in the south to Point Dume in the north and send out the most epic birthday selfie!
Heights not your thing? Pacific Park's complimentary birthday ride can also be redeemed on any one of the Park's 12 amusement park rides. Want to ride more than one? Bringing friends? See prices for our Unlimited Ride Wristbands at pacpark.com/tickets.
Tickets
Individual Ticket Prices
Pacific Park is an admission-free amusement park meaning you can come and go as you please. Rides and attractions are priced individually and range in price from $5-12. You can purchase tickets at the ticket booth for individual rides or play more by purchasing an Unlimited Ride Wristband.
Unlimited Ride Wristbands
Guests can ride all day with Pacific Park's Unlimited Ride Wristbands. Wristbands are purchased online or at the ticket booth and allow guests to ride all 12 rides in the Park as many times as they like for the day.
Birthday Parties on the Santa Monica Pier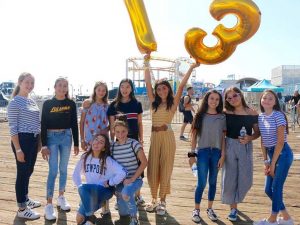 There are lots of ways to celebrate your birthday at the Santa Monica Pier. Pacific Park no longer offers "birthday parties," but we do offer discounted Unlimited Ride Wristbands to groups of 15 or more. Check out details and pre-purchase online ahead of time at www.pacpark.com/groups/.
While we're no longer in the "birthday business," we encourage guests that would like to celebrate their birthday on the Santa Monica Pier to stop on by the Park and enjoy a complimentary ride on the world-famous Pacific Wheel or any of our other 11 rides*.
Looking for something different? Check out some of the birthday party options at our neighbors such as The Trapeze School, Heal the Bay Aquarium, and the Playland Arcade.
*Some restrictions apply including minimum rider heights. Please visit www.pacpark.com/rides to see a list of regulations for each ride.
**Proof of birth date is required. Guests must be visiting on their actual birthday in order to receive one free ride for any of Pacific Park's 12 amusement park rides. Guests must meet the minimum height requirements for each ride. Some restrictions may apply. No single riders on the Pacific Wheel. Pacific Park reserves the right to refuse or discontinue this promotion for any reason at any time.