Directions
Pacific Park is located in Santa Monica, California on the World Famous Santa Monica Pier!
380 Santa Monica Pier
Santa Monica, CA 90401-3128
Phone:
(310) 260-8744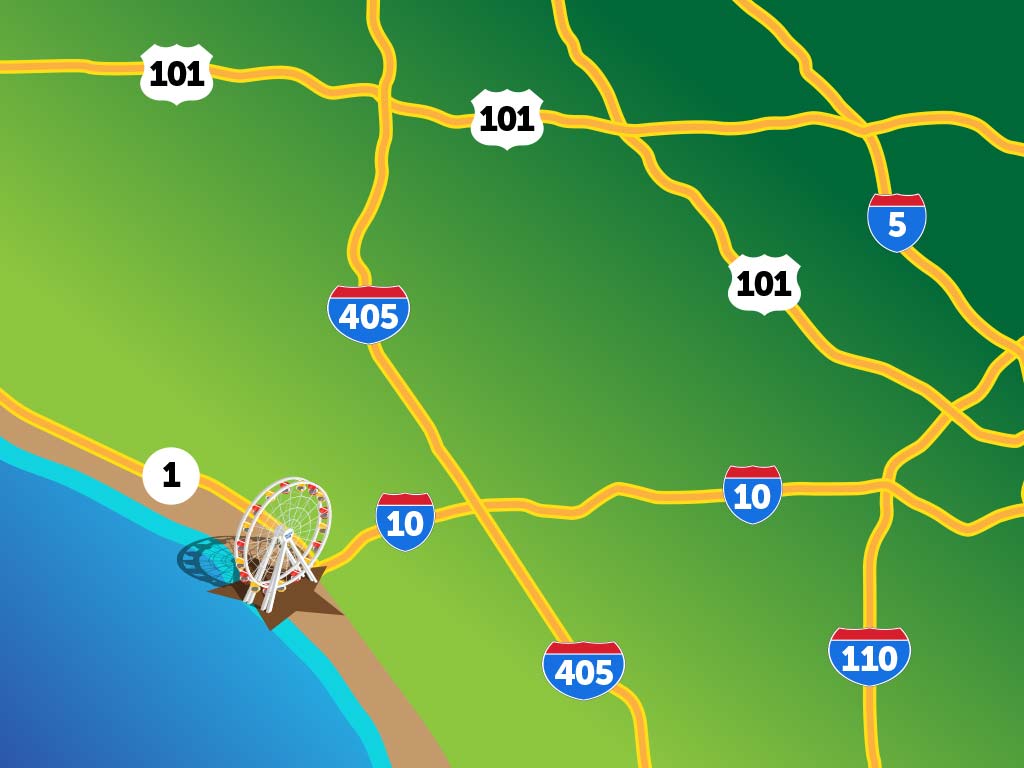 By Car
Pacific Park is located on the world-famous Santa Monica Pier. You can reach the Park from all points East via I-10.
To find the beach parking lot on GPS, use the address below:
1550 Appian Way
Santa Monica, CA 90401
---
From the I-10 West
From I-10 West, exit 1-A to 4th & 5th streets, stay in the right lane to make a right on 4th Street at the light.  Make the first left on Colorado Boulevard and drive straight until you hit Ocean Ave. Turn left onto Ocean Ave. Make a right on Seaside Terrace – this is a small side street after the traffic light onto Pacific Coast Highway.  Take the next right on Appian Way – this will take you to Lot 1 North on the other side of the Pier.
---
From Pacific Coast Highway South
If you are driving to Santa Monica on the Pacific Coast Highway, you can enter Lot 1 North by the beach directly from PCH. When approaching the Pier, stay right after passing the California Incline; as traffic moves left into the McClure Tunnel, stay in the right-most lane. This will take you directly into Lot 1 North. If you need to access the Pier deck from PCH, exit left to the California Incline which will take you up to Ocean Avenue. Turn right on Ocean; the Pier bridge will be on your right in three blocks at Colorado.
---
Passenger Drop Off
Passenger vehicles are NOT permitted to drive onto the Pier. If dropping off, have your driver drop you off here:
1541 Ocean Ave #120
Santa Monica, CA 90401
By Train
The Metro Expo Line runs from 7th/Metro Center in downtown Los Angeles to the Downtown Santa Monica Station, located at 4th and Colorado Ave. The total trip takes approximately 46 minutes – a fast, economically, and environmentally-friendly alternative to the I-10 Santa Monica Freeway. Regular adult fare on the Metro is $1.75 and includes two hours of free transfers. Trains run every 12 minutes during the day.
There are three parking lots located along the expanded Expo line – Expo/Sepulveda, Expo/Bundy, and 17th St./SMC. For more information, visit Metro.net.
To walk to Pacific Park from the Downtown Santa Monica Expo Station, head west on Colorado Avenue along the esplanade, cross over Ocean Ave onto the Pier. It's approximately a 10 minute walk from the station to the Park.
By Foot
The Pier is centrally located in Santa Monica and easily accessible on foot from all hotels in Downtown Santa Monica, as well as Santa Monica Place and the Third Street Promenade. Simply look towards the sea and walk until you get to Ocean Avenue. You will be able to see the Ferris wheel and Pier. To walk to the Pier from Downtown, the best path is to walk under the historic Santa Monica Pier and Yacht Harbor sign at Ocean and Colorado and down the Pier bridge.
If you are on Main Street or coming from hotels and other destinations along Pico, head towards the beach and take Ocean Front Walk. This meandering pathway leads past ocean-front cafes, hotels, and the historical Muscle Beach to the back side of the Pier which is accessible by a number of stairways and wheel-chair accessible ramps.
By Bus
The Santa Monica Pier is serviced by Big Blue Bus and the Los Angeles Metro Authority's bus fleet. Big Blue Bus, Santa Monica's mass transportation service, has service to the Pier on Bus 8 Downtown Santa Monica / UCLA. The stop is at Ocean and Colorado. At the nearby Civic Center stop, you can catch buses 9 Pacific Palisades / Downtown Santa Monica, 2 Wilshire Blvd, and 5 Culver City / Downtown Santa Monica. On 4th street buses 7 Koreatown / Downtown Santa Monica and 3 Aviation / LAX make stops for both their standard and rapid services. Local trips are $1.25 each way. Find up-to-date times and schedules at bigbluebus.com.
Metro is the Los Angeles metropolitan transportation system that encompasses 100 miles of light rail lines and over 2,000 buses spanning a 1,500 square mile service area. Metro Bus 534 Downtown Santa Monica / Trancas Canyon stops at Colorado and Ocean. On 4th street you can catch the Metro Rapid 720 all the way to Downtown LA via Wilshire. Metro Buses are $1.75 one way or $7 to ride all day. See schedules, other bus routes servicing Santa Monica and a handy trip planner at metro.net.
If you are coming from the San Fernando Valley, LA County's Beach Bus departs from Warner Center every morning and can get you the Pier for just a $1. Read more about the service and see schedules at the county's transit page.
Other Transportation Options in Santa Monica
Santa Monica offers a number of transportation alternatives to navigate including the Free Ride shuttle, ride-share services, and an ever-growing fleet of bike-share options and dockless e-scooters.  Whether you decide to pedal or let a Lyft driver take you to your destination, you'll want to know the best place to access the Pier for each option.
The Santa Monica Free Ride is a free, hotel-sponsored service that will transport riders to Downtown Santa Monica, the Santa Monica Pier, Main Street, and Montana Avenue. The shuttle is regularly available at Shutters on the Beach Hotel, DoubleTree Santa Monica Suites and Loews Santa Monica Beach Hotel, and runs seven days a week from 11:30 a.m. until at least 8 p.m., later on weekends and for special events. The electric Shuttle is not exclusive to visitors: any pedestrian can flag down the three hotel-sponsored vehicles to be transported within the service area.
Many ride-share services, including industry leaders Lyft and Uber, pick up and drop off passengers in Downtown Santa Monica. If coming to the Pier, set your destination to 1515 Ocean Ave, Santa Monica, CA 90401 to be dropped off in front of the Shore Hotel so that you avoid the congestion of the Pier Bridge and beach access roads. From this area you can walk down the pier bridge at Ocean and Colorado. If you are requesting a ride-share pick up, walk to the 4th street metro station which provides a spacious kiss-and-ride pick-up and drop-off area that is easily accessible from the freeway. If you need a Pier-adjacent pick up, we recommend you walk to Lot 1 North on the beach level and request your ride there to prevent your ride-share diver from getting stuck on the Pier bridge.
If you are already in Santa Monica but find that the Pier is too far to walk but not far enough for a car ride, consider trying one of the many electric scooter and bike share programs prevalent in the City. Please remember that the beach pedestrian path and Pier boardwalk are for walking only and to always wear a helmet when riding and biking. Read more about our tips and tricks for using e-scooters in Santa Monica.