Plan your visit to Pacific Park on the Santa Monica Pier
The Santa Monica Pier is one of Southern California's most iconic entertainment destinations, home to over a dozen restaurants, shops, and the world-famous Pacific Park. The Pier is open and accessible 7-days-a-week, all year-round. The amusement park, shops, and restaurants hours and offerings vary. We have compiled all the basic information you need for planning a visit to the Santa Monica Pier.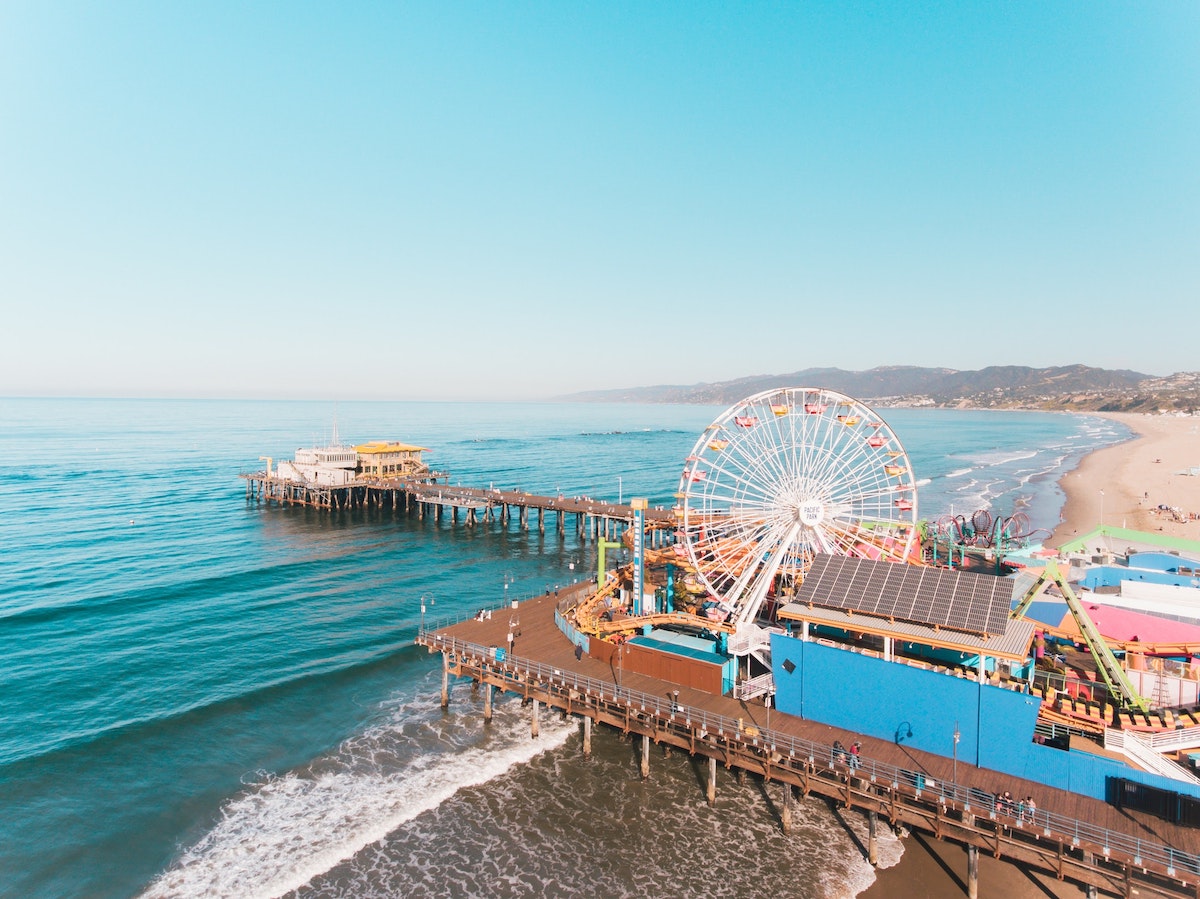 Pacific Park Hours
The Santa Monica Pier is open and accessible to the public year round, excluding special events. Most days, the pier is open 6 AM – 10 PM for visitors. Pacific Park opens 365 days a year. The Park's operating hours vary by season and may change due to inclement weather or special events. Prior to visiting, be sure to check our hours.
Getting to the Santa Monica Pier
The Park is located at 380 Santa Monica Pier, Santa Monica, CA 90401. The Pier can be accessed by driving via I-10 or Pacific Coast Highway, by rail on the Metro Expo Line, or if traveling locally, by walking to the Pier's iconic Santa Monica Pier and Yacht Harbor sign at Ocean Avenue and Colorado Blvd. See more ways to get to the Pier.
Where to Park
If driving, you will want to go to Lot 1 North at 1550 Appian Way, Santa Monica, CA 90410. There are over 1,000 paid parking spaces available and the lot can accommodate busses and RVs. There are other parking options available on the Pier, by other beaches, or in the Downtown Santa Monica. See a full list of options.
Tickets for Rides, Games, and Attractions
Pacific Park is an ungated attraction meaning that you do not need to pay an admission fee to enter. Ride entry is priced per person, per ride, and tickets can be purchased from any ticket booth in the Park. An Unlimited Ride Wristband lets you ride all 12 amusement park rides as many times as you want for the whole day.
Games and attractions are pay-to-play. Most games can be played by paying at the game; games vary in price from $3-$7. The ticket booth also sells pre-loaded Game Play cards that can be used at all of the midways games.
Ride the Pacific Wheel
Our most famous ride is the Pacific Wheel, the world's first and only solar-powered Ferris wheel. A ride on the Ferris wheel is $11 per person. There are no single riders allowed on the Pacific Wheel, so if traveling solo, please read more about your options here. Riders 3 years and younger do not need a ticket or wristband to ride the Pacific Wheel but must be accompanied by another ticketed rider meeting the minimum required height. Read more about the Wheel.
Places to Eat
Pacific Park offers many options for snacks and dining on the Pier. By the Park's main entrance you can find Beach Burger, serving classic California fare including cheeseburgers and corn dogs, and The Pacific Wheel Pizza Company specializing in fresh, made-to-order pizzas. The ocean-front dining plaza offers public seating that to accommodate guests on a first-come first-serve basis. Be sure to try our signature, fresh-made funnel cakes. Read more about all of our dining and restaurant options.
The Santa Monica Pier
The Santa Monica Pier is a state-registered landmark and has been serving the community of Santa Monica for over 100 years. Before Pacific Park, the Pier was home to many amusements and attractions including the George Looff Hippodrome and the La Monica Swing. The Pier is visited by millions of people every year and is home to the Pacific Park amusement park, unique restaurants, quirky shops, and also serves as a destination for photographers and videographers year-round. The Pier has been featured in countless movies and TV shows and continues to be an internationally recognized icon of the Los Angeles coastline and a symbol of Southern Californian culture. Find out more information about the Santa Monica Pier.
Santa Monica Beach
There are 8-miles of pristine white-sand beaches stretching to the north and south of the Santa Monica Pier. The Pier, and its generous parking facilities, are often the base for locals spending a day by the ocean. The beaches by the Santa Monica Pier are regularly recognized amongst the most desirable beaches in the world due to their size, proximity to a major urban center, and pristine sands. The beaches feature scores of volleyball nets, ocean-front cafes, a fitness park, public art space, playgrounds, showers, bike rentals, and world-class hotels all connected by Ocean Front Walk and a meandering bike path that connects Santa Monica to neighboring Venice Beach. Read more about visiting the beaches in Santa Monica .
Looking for more information about the Santa Monica Pier?