Games
People love walking by Pacific Park's boardwalk-style midway games to see what fun prizes they can win to take home. From race games, to games of speed and skill, anyone can win a prize at Pacific Park – and many of the games offer a prize every time. From stuffed animals bigger than you, to genuine licensed products from today's most popular trends, the prizes are sure to be a lasting souvenir from your visit to the Pier. We move and change our midway games out from time-to-time, so be sure to check back for the latest fun games you can play on your next visit.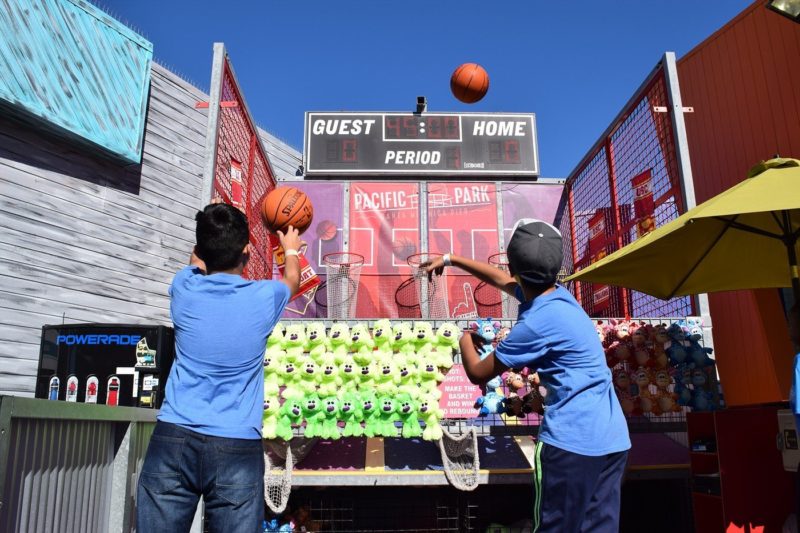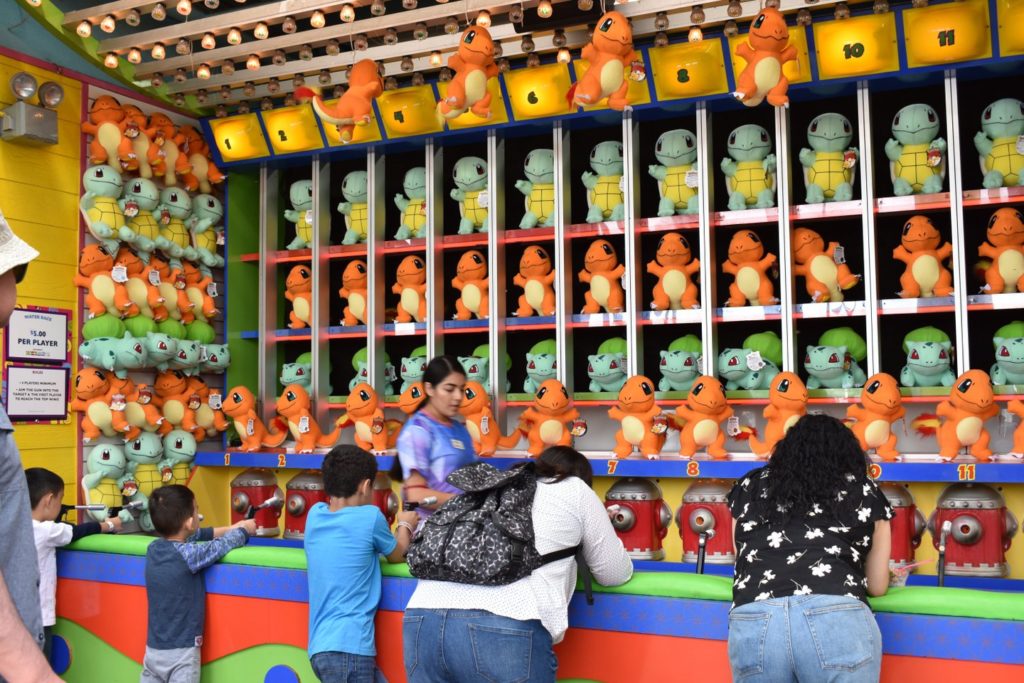 Players of all ages aim their water guns at a target to propel their playing piece along the race. First to the finish line wins a prize! Every race has a winner!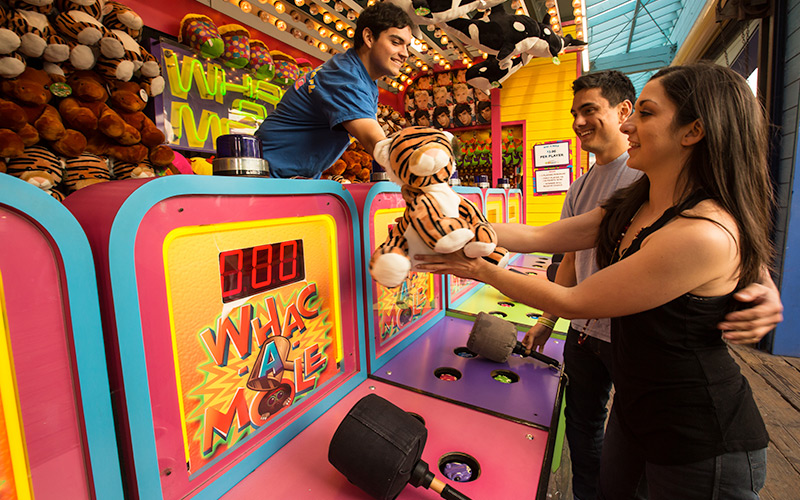 Grab your foam mallet and get ready to whac any moles that pop up out of their holes. Whac the most moles and win a prize!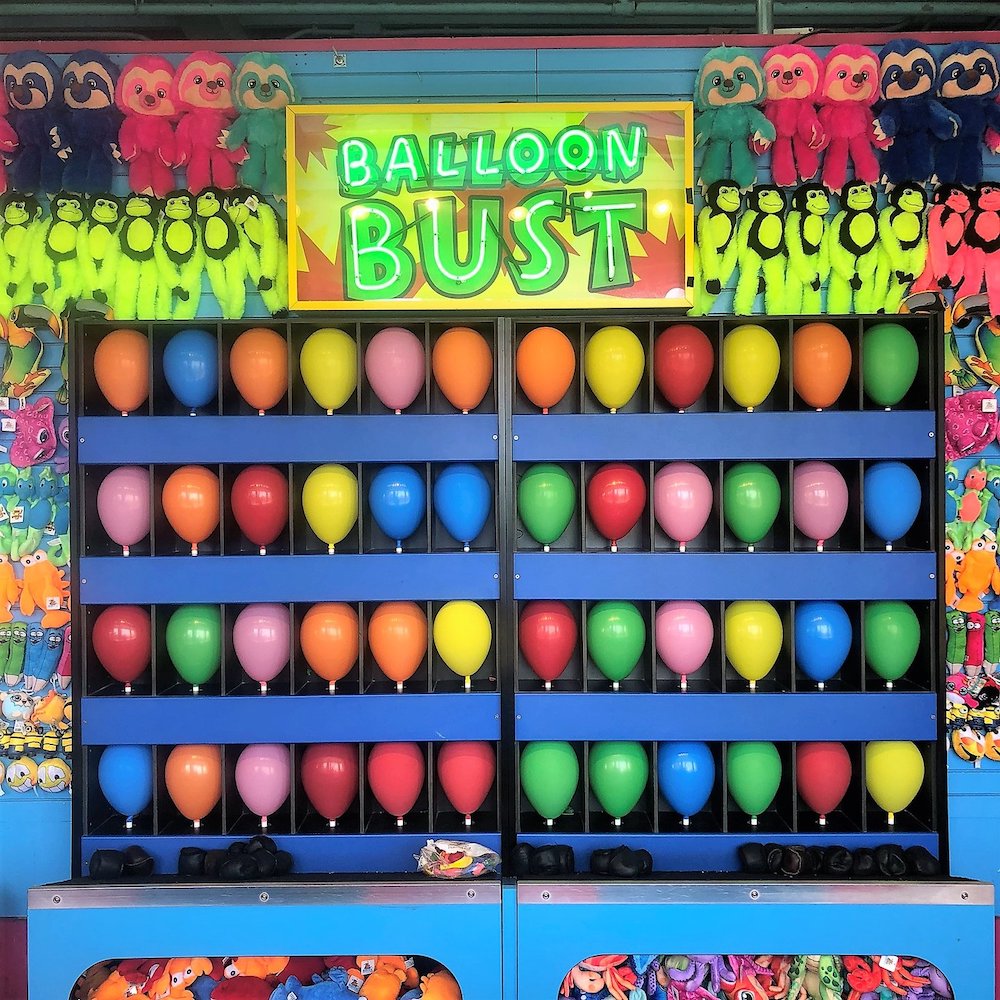 Players throw darts and aim to pop the balloons! If you pop any balloon, you win a prize! Kids win every game guaranteed!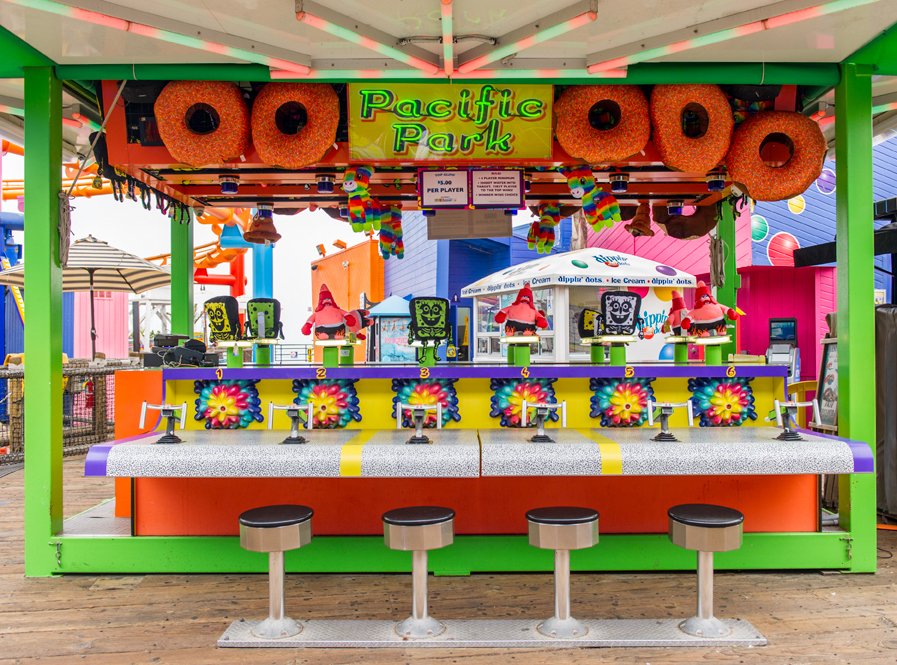 Get ready, set, and go! Aim your water gun into a spinning hole and spiral your toy to the top. First one to the top wins a prize! There's a winner every race!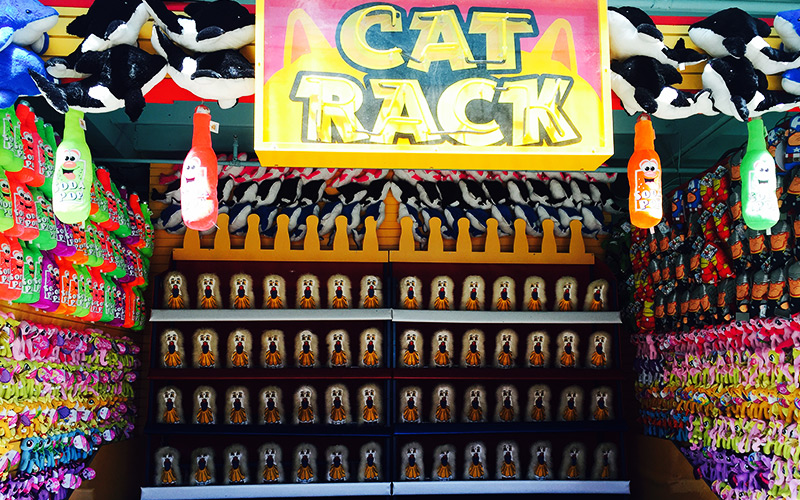 Players have three chances to knock down the standing props off their paws! Knock down 2 cats for a small prize. Knock down 3 cats for a large prize.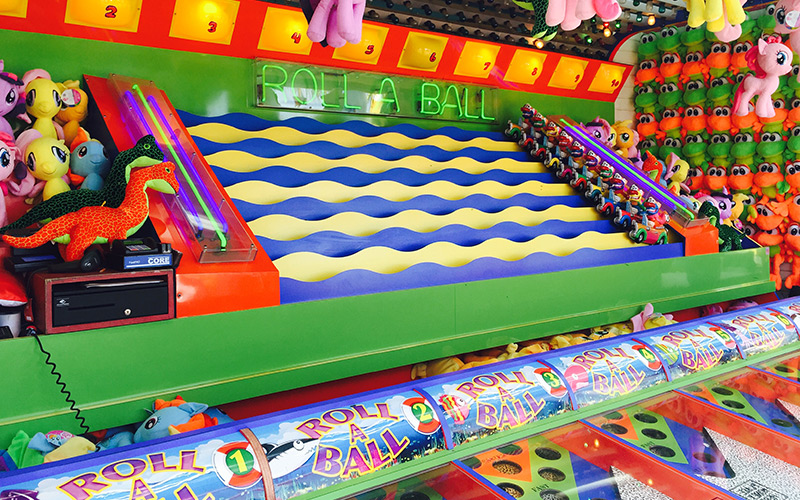 Players line up and race each other to see who will reach the finish line first! Break ahead of the pack by rolling the most balls into the triangle of holes. There's a winner every race!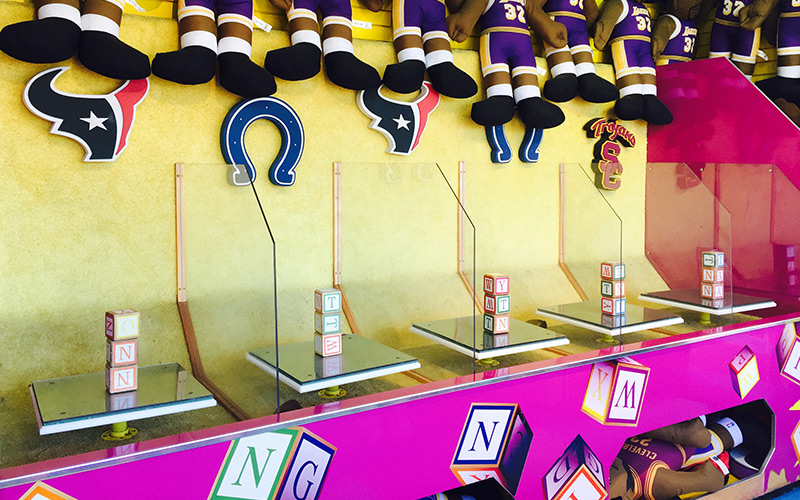 Power throws! Beanbag throwers fling cushioned sacs against a stack of three blocks in an attempt to knock them right off a pedestal.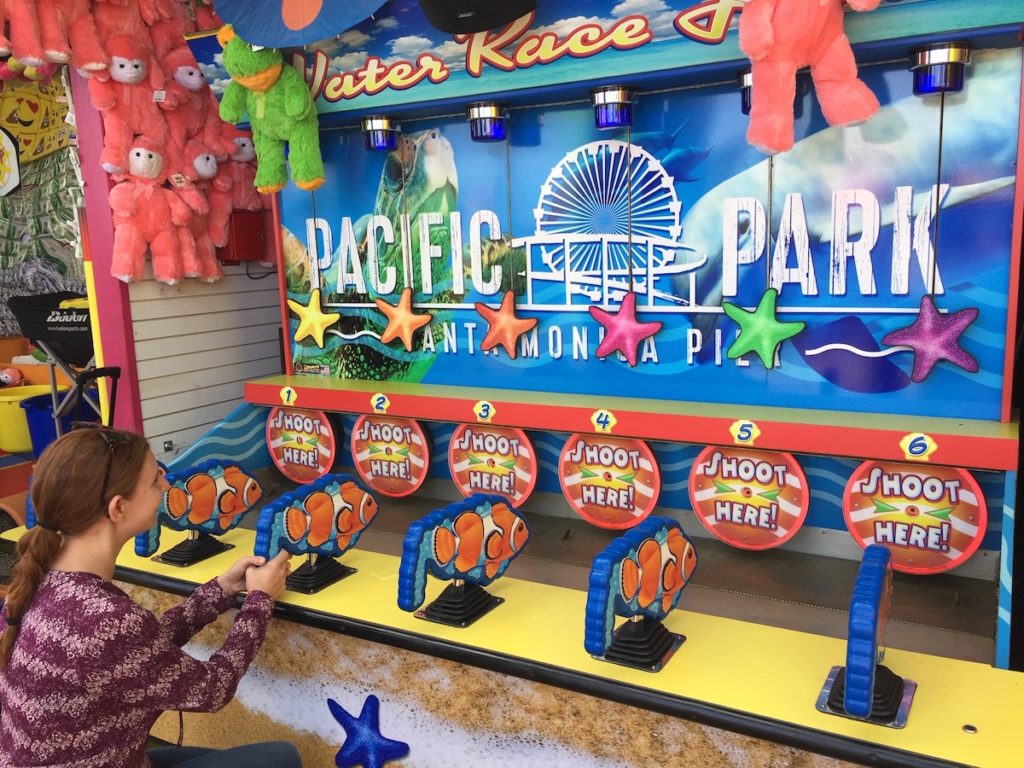 This one's for the kids! Players aim their clown fish (water guns) at a target to propel their starfish along the race. First to the finish line wins a prize! Every race has a winner!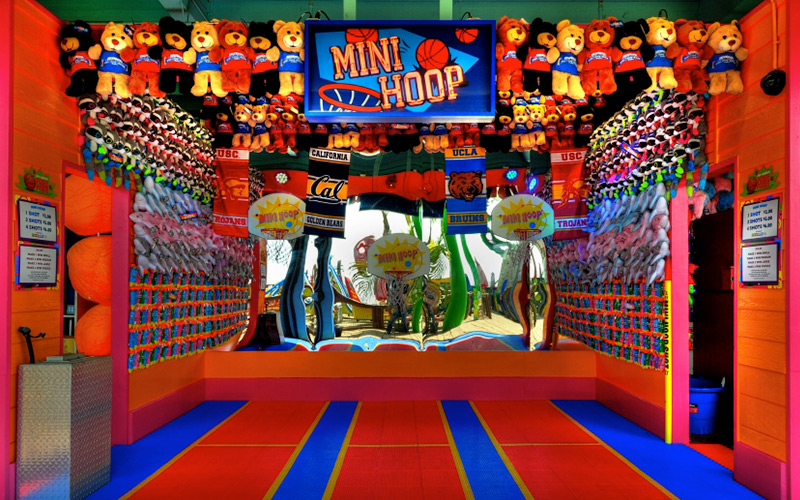 To win a prize or simply for bragging rights, guests are challenged to score a basket by swishing a five-inch-diameter mini-basketball through a nine-inch-diameter steel rim with an eight-loop net.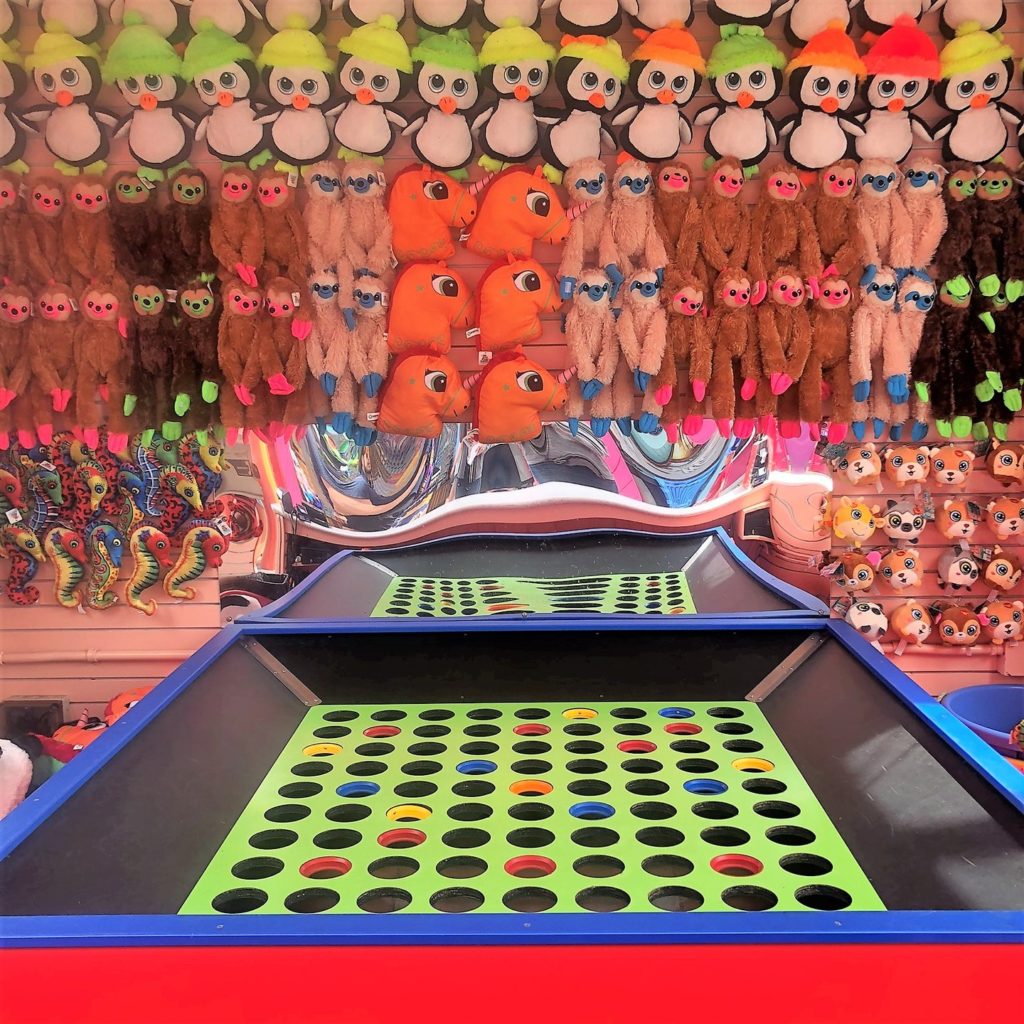 With more than 300 goblets to try to land a ball, a bigger challenge for guests is deciding if it's a red, blue, yellow or orange goblet they want to aim for. Players toss a wiffle ball hoping to land in the color goblets, which determines the size of their prize. Land in a purple goblet and get a free ball to throw again. One in wins!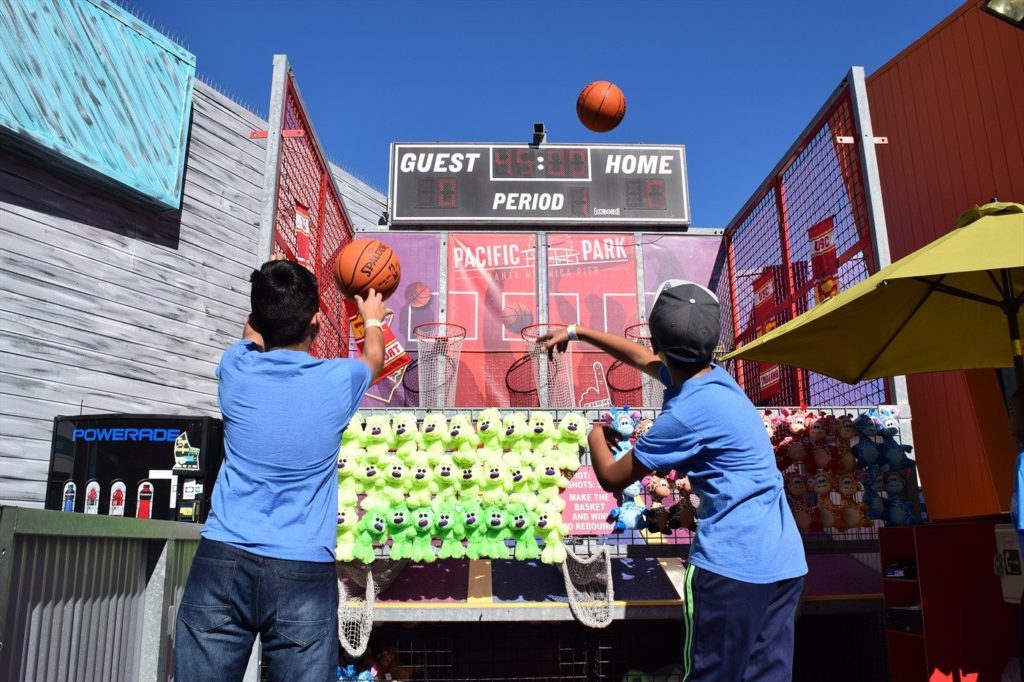 Players test their skills at shooting hoops at this long-range basketball game. Score a basket and win a prize!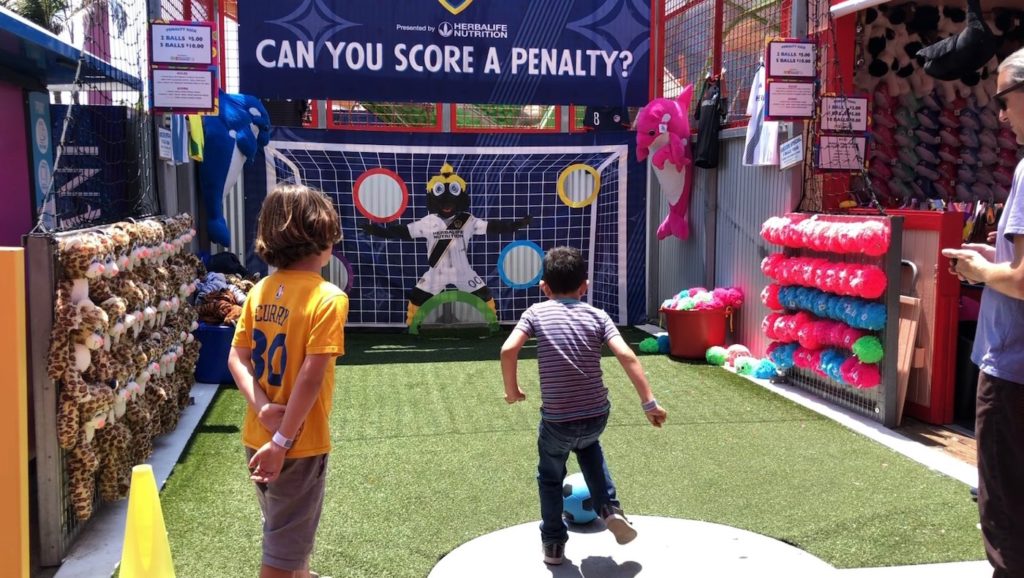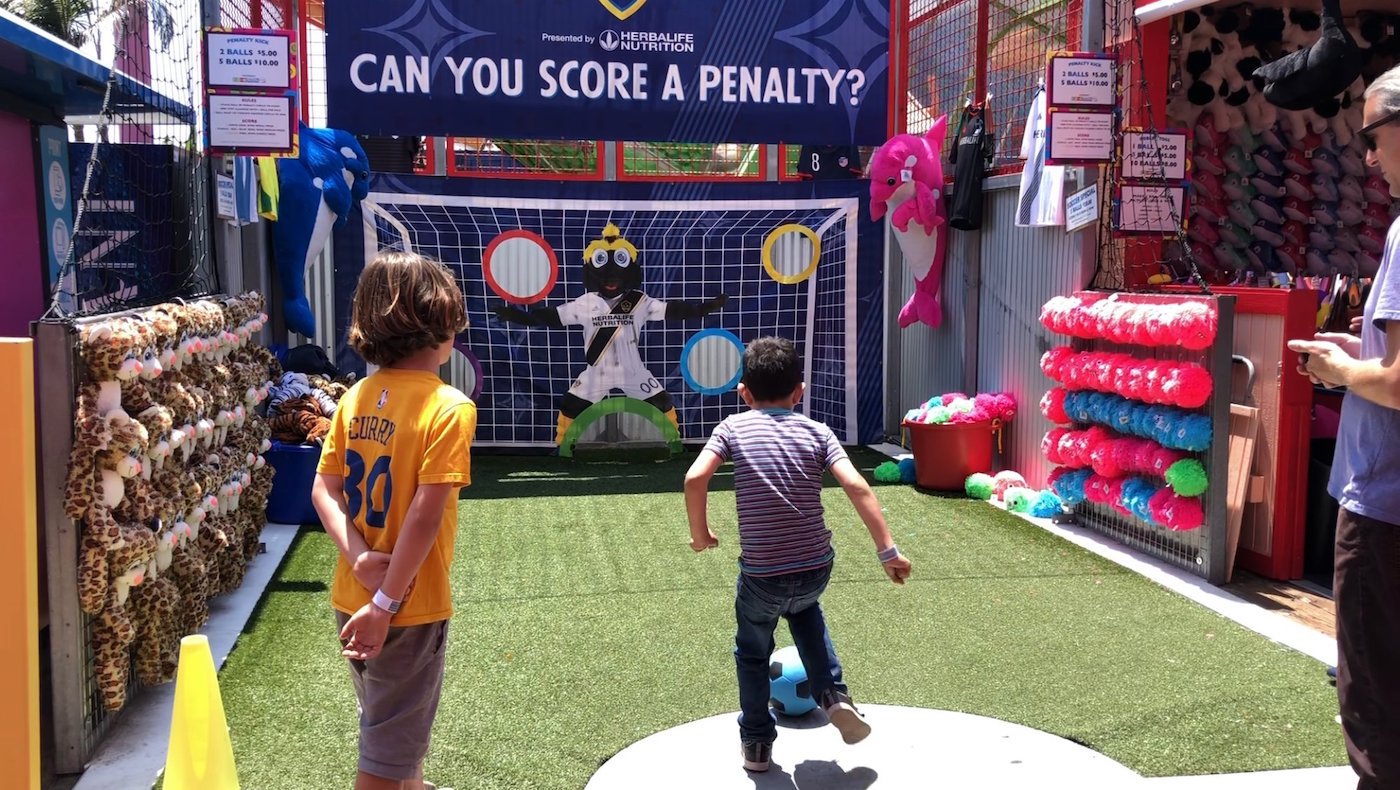 Think you can make a goal against LA Galaxy's Cozmo? Put your soccer skills to the test at Penalty Kick to win a prize!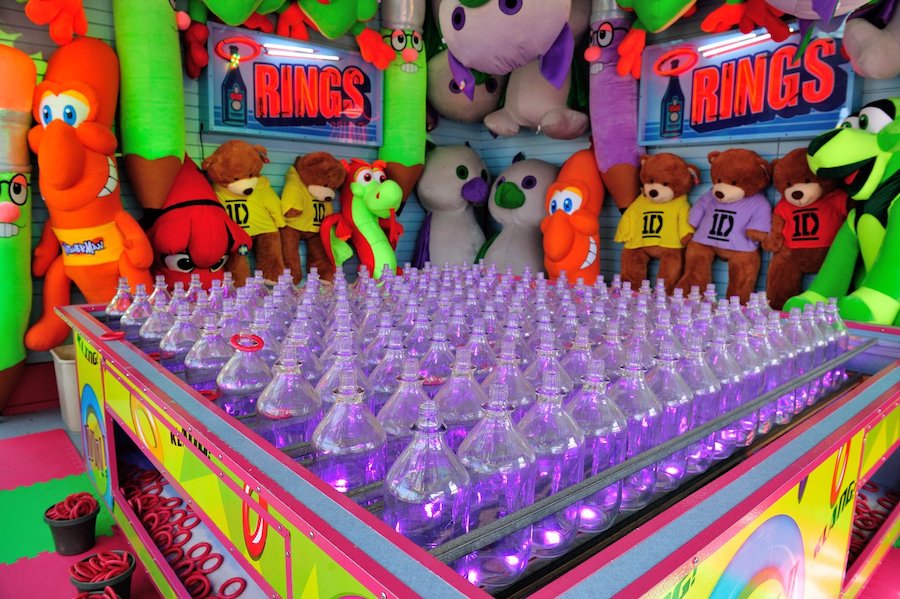 Watch the throwing rings fly! If a plastic ring lands atop one of 187 green, glass bottles, you win a jumbo prize!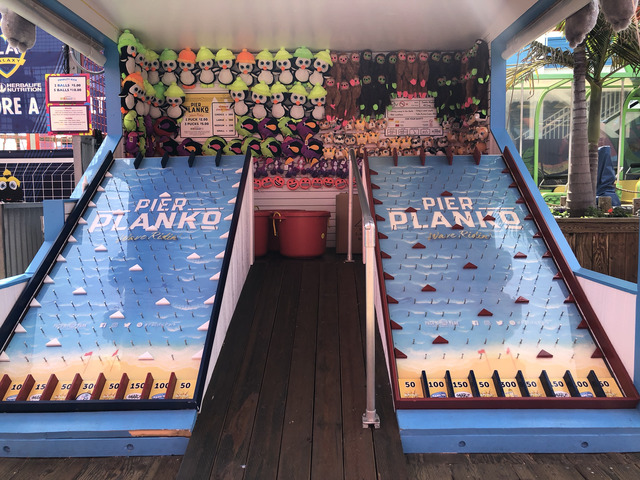 Can your surfer shred the waves of the Santa Monica Bay and get into the gnarliest prize slot? Pier Planko is a drop-puck game where you can win prizes by surfing your puck through a sea of pegs landing in a numbered slot. Every play wins, but those who get more points get bigger prizes.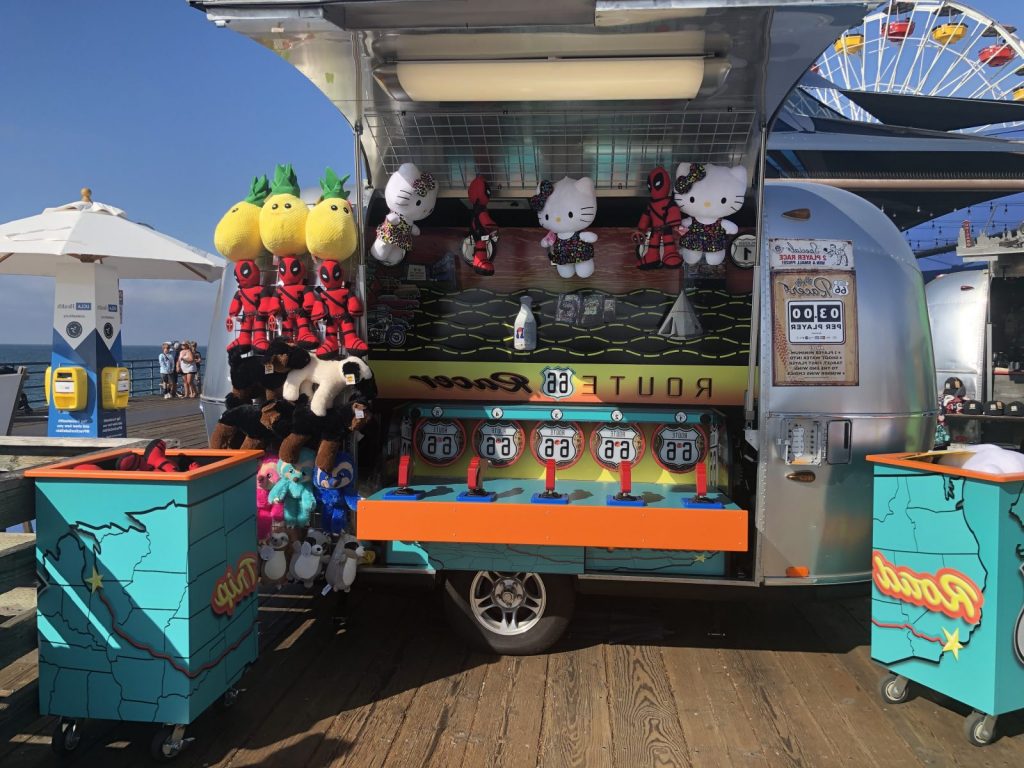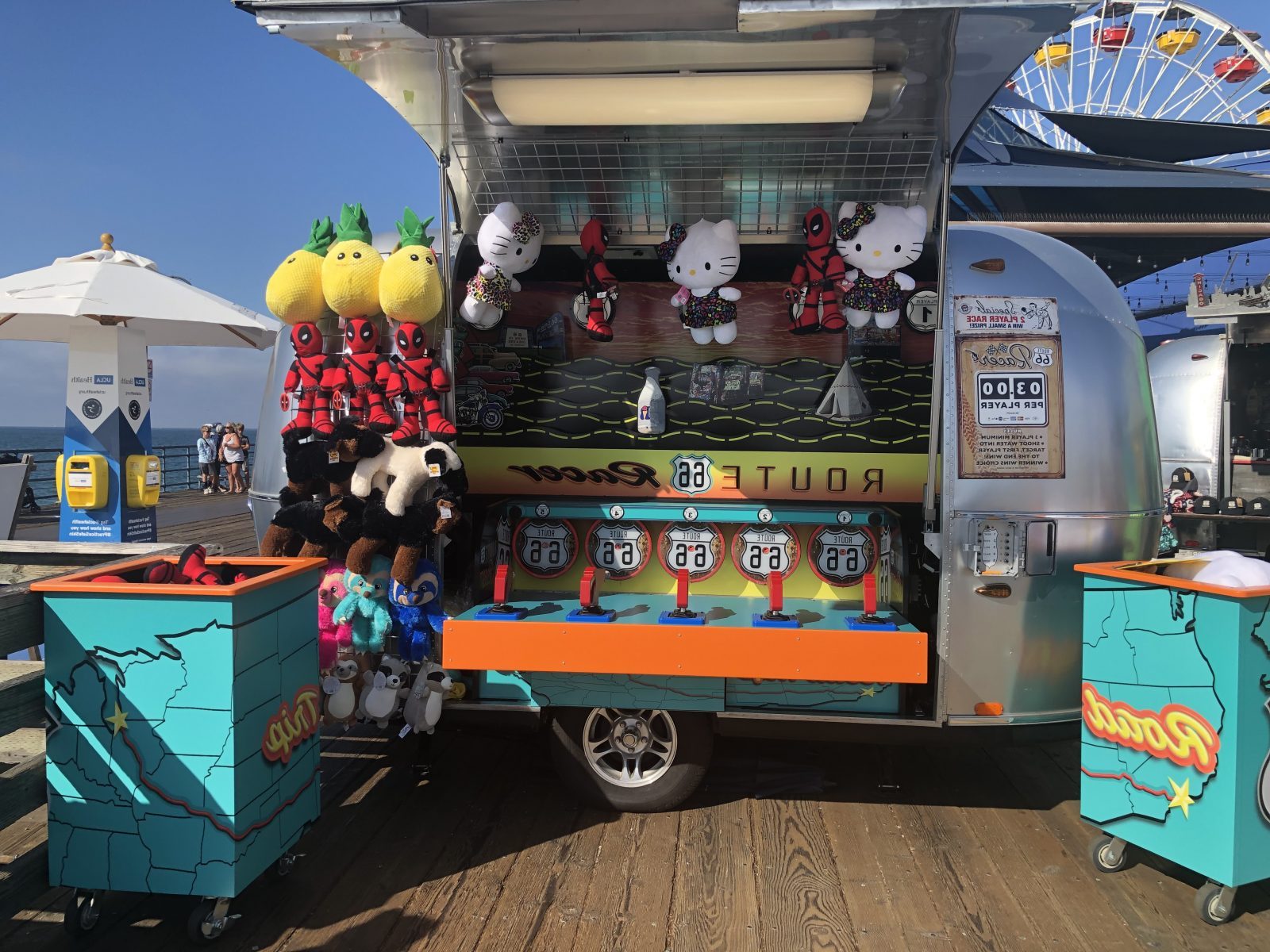 Pick your car, start your engine, and race your friends across the country along the mother road, Route 66. The Route 66 Racer is a Pacific Park original based off the popular derby racers. There are 6 cars to choose from and you can control their speed.
Attractions
Spin to win in these two-seat, 360-degree-turning and tumbling attractions.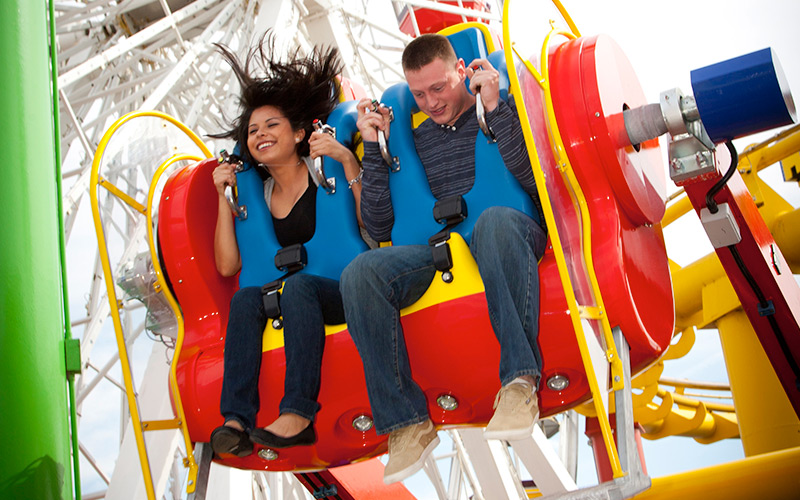 Players use a joystick to control their speed and rpm all while flinging in circles, rotating frontward, backwardand all around in what feels like a freefalling yet fun-wheeling, swing-like manner in an attempt to win a prize.
$8 per guest
(Not Included in Unlimited Ride Wristband)