Santa Monica Pier and Downtown Santa Monica Parking Options
Pacific Park® is located in Santa Monica, California on the World Famous Santa Monica Pier! 380 Santa Monica Pier  •  Santa Monica, CA 90401-3128  •  Phone: 310-260-8744
Directions to Beach Level Parking
From I-10 Freeway heading west, exit 4th Street.
Turn left onto Colorado Avenue.
Do not drive onto the Pier – turn left at Ocean Avenue.
Turn right onto Seaside Terrace.
Turn right at the first stop sign, onto Appian Way.
Follow road under the Pier bridge and to the left, into the parking lot.
Once parked, there are stairs located at the southwest corner of the parking lot by Bubba Gump Shrimp Co. that will lead you onto the Pier.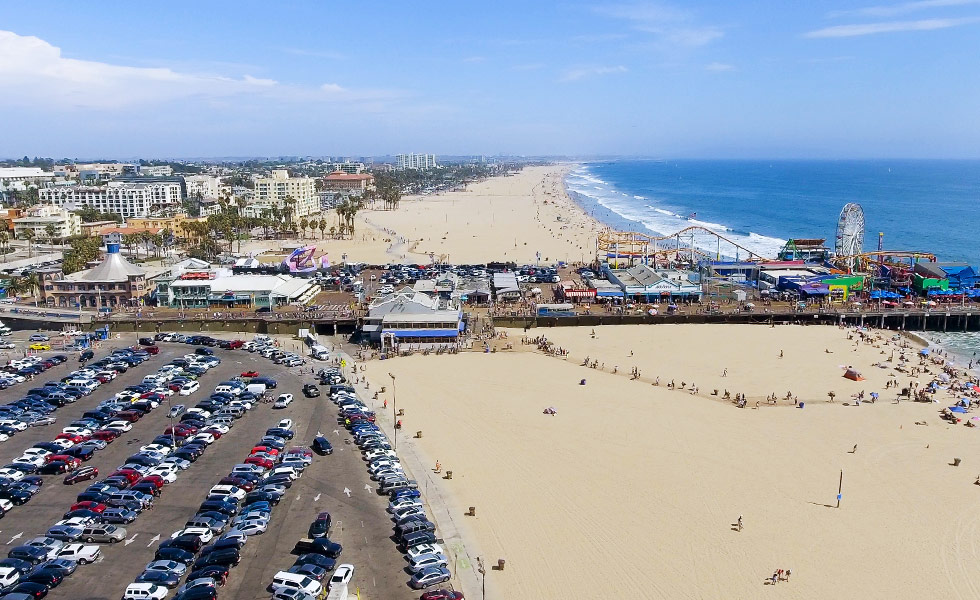 Taking the Metro
NEW!
The Metro Expo Line runs from 7th/Metro Center in downtown Los Angeles to the Downtown Santa Monica Station, located at 4th and Colorado Ave. The total trip takes approximately 46 minutes – a fast, economically, and environmentally-friendly alternative to the I-10 Santa Monica Freeway. Regular adult fare on the Metro is $1.75 and includes two hours of free transfers. Trains run every 12 minutes during the day.
There are three parking lots located along the expanded Expo line – Expo/Sepulveda, Expo/Bundy, and 17th St./SMC. For more information, visit Metro.net.
To walk to Pacific Park from the Downtown Santa Monica Expo Station, head west on Colorado Avenue along the esplanade, cross over Ocean Ave onto the Pier. It's approximately a 10 minute walk from the station to the Park.
Santa Monica Pier
You can pay to park in the lower lot, Lot 1 N. Lots are first-come-first-serve and can fill up pretty quickly on a busy day. Parking rates vary so please check the City of Santa Monica Parking website for updated information. Again, these beach lots fill up FAST, so consider parking in Downtown Santa Monica around the 3rd Street Promenade, which is within easy walking distance to the beach and Pier.
City Lots
There are plenty of parking lots and garages in Santa Monica that you can choose from, but if you are staying for just a short time, the best place to park is at any of the City-owned lots. In most of these parking structures, the first 90 minutes are free. The closest one located to the Pier is located on the corner of 2nd and Colorado (just one block away from the Pier).
Street Parking
Santa Monica has a lot of metered parking in the area. Meters typically charge $1-$2 per hour with a 2 hour time limit. This 2 hour time limit is a strict parking maximum for Santa Monica streets. Parking meters are strictly enforced.
Pier Parking
Some limited parking will be available after Thanksgiving on the pier deck east of Pacific Park. The lot's operating hours are Monday through Thursday, 9AM to 9PM. Vehicles parked here pay on exit and must be off the pier before 9 PM.