June 1-7 each year is National CPR and AED Awareness Week, spotlighting how lives can be saved if more Americans know CPR and how to use an AED (automated external defibrillator.)
According to the American Heart Association (AHA), about 70 percent of out-of-hospital cardiac arrests happen in the home. The more people who receive even the most-basic training in the life-saving technique of hands-only CPR can help saved loved ones who experience a cardiac event.
During National CPR and AED Awareness Week, Santa Monica Pie Harbor Patrol officers will be conducting free, public, 'hands only' CPR training at the Santa Monica Pier. 'Hands Only' CPR is an alternative to mouth-to-mouth resuscitation and has been proven to provide life-saving chest compressions to individuals experiencing a cardiac emergency.
In 2007, the AHA in coalition with the American Red Cross and the National Safety Council worked collaboratively to designate a National CPR and AED Awareness Week federally. On December 13, 2007, Congress unanimously passed a resolution to set aside June 1-7 each year as National CPR and AED Awareness Week to spotlight how lives can be saved if more Americans know CPR and how to use an AED. This annual campaign reinforces these skills but also places importance on the willingness of bystanders to act in a cardiac arrest emergency.
CPR, or Cardiopulmonary Resuscitation, is a first-aid technique first described by the French Academy of Sciences in 1740 as a means to revive drowning victims. Doctors James Elm and Peter Safar further instructed the effectiveness of CPR and its many advantages compared to other emergency procedures during their time. Over the last 300 years, other medical professionals and organizations have sought to improve upon the method that saves some 92,000 lives every year.
The modern AED, or automated external defibrillator, is used to help those experiencing sudden cardiac arrest. It's sophisticated, yet easy-to-use, medical device that can analyze the heart's rhythm and, if necessary, deliver an electrical shock, or defibrillation, to help the heart re-establish an effective rhythm. Training in the use of an AED includes knowing where they are located and how to use one in the event of an emergency until emergency medical responders can arrive.
WHAT:
Sidewalk "Hands-Only" CPR Training
WHEN:
Wednesday, June 8
3 PM – 5PM
WHERE:
West end of the Santa Monica Pier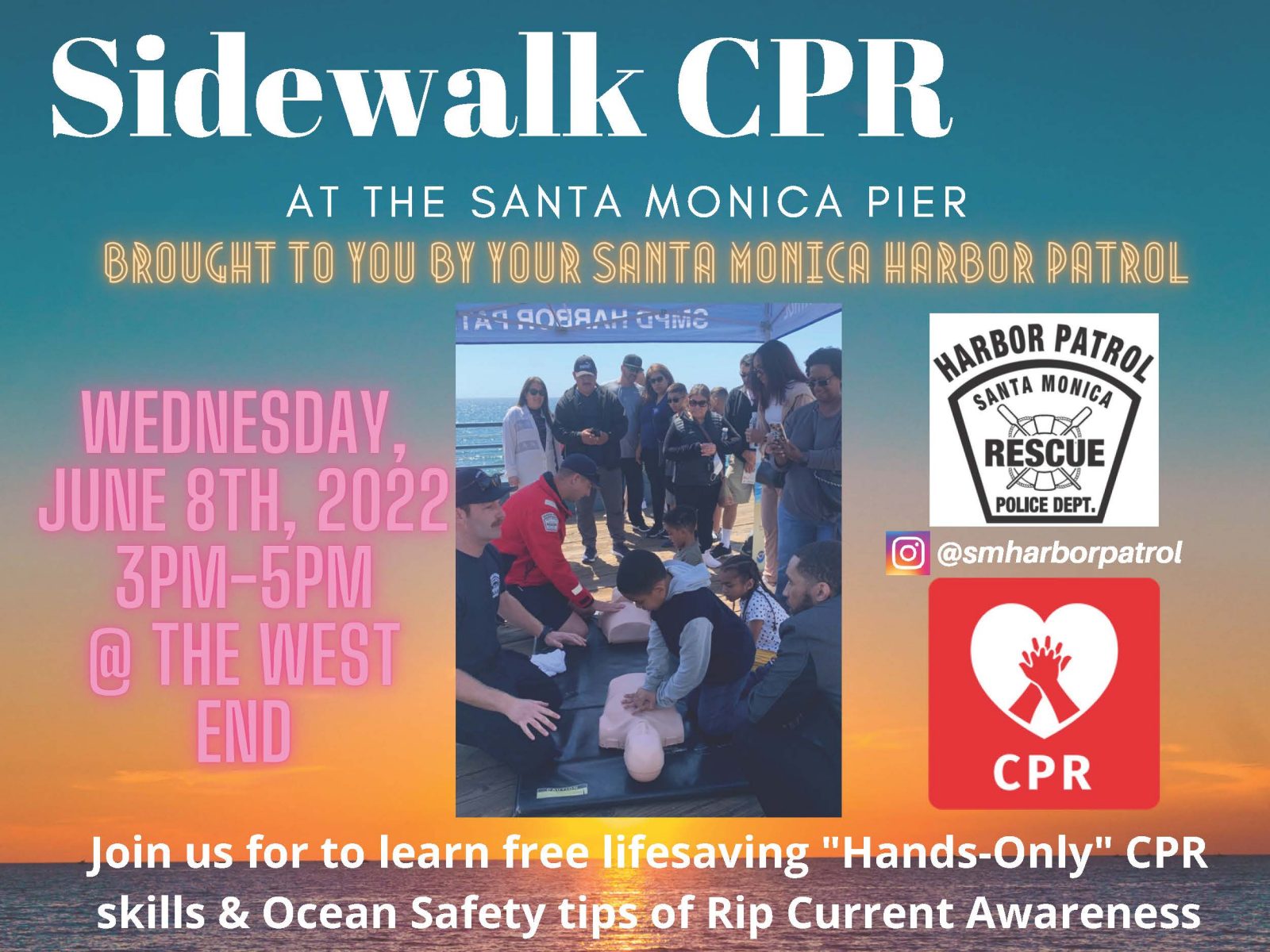 The Santa Monica Harbor Patrol is a unit of the Police and Public Safety offices responsible for responding to a variety of water and pier/beach-related calls including boats or swimmers in distress, medical emergencies on commercial vessels, SCUBA diving emergencies, and aircraft-related incidents. They also maintain the navigation aid buoys that surround the pier breakwater as well as to conduct underwater inspections of the pier support pilings. Harbor Officers are stationed on the Santa Monica Pier 24/7 and respond to over 100 calls for service each month.