Pacific Park is regularly featured in news articles, vlogs, and the media. Below are our picks for the top news and blogs mentioning Pacific Park and the Santa Monica Pier for October – December, 2020.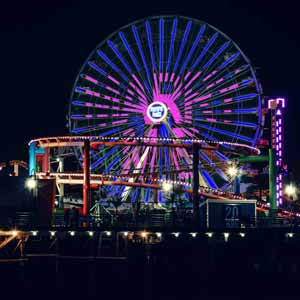 These Santa Monica Hotels Will Deliver an Engagement Ring Via Drone to Help You Pop the Question
Travel + leisure
Shutters on the Beach and Hotel Casa del Mar, two of Santa Monica California's most iconic hotel properties, are hoping to make engagement season a little more epic for couples in 2020. Couples can also choose to upgrade the experience with a private chef en-suite dinner, yacht cruise, a luxury convertible rental, and even the ability to put a message on the famed Ferris wheel on the Santa Monica Pier that reads "Marry Me."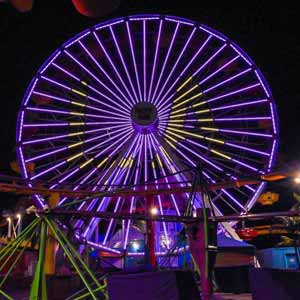 LA Landmarks Lit Up In Purple And Gold After Lakers Title Win
CBS Los Angeles
Several Los Angeles landmarks were lit up in the classic purple and gold after the Lakers won their 17th title Sunday night. Purple and gold lights could be seen shimmering at L.A. City Hall, the iconic Santa Monica Ferris wheel and at L.A. Union Station.
Photo by @beachinsoul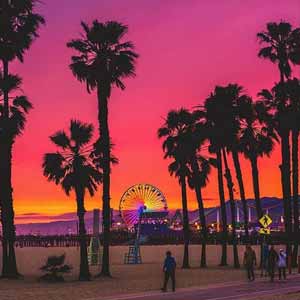 Top 12 Places to Watch a Sunset in Los Angeles
LA Confidential
An absolute classic tourist destination, everyone should visit the Venice Beach Boardwalk at least once in their life. You'll recognize the strip from countless movies and television shows. Just being there will make you feel like a star. Check out the beach, and make sure to grab some food while you're there, but don't forget to end your visit by watching the sweet sunset.
Photo by @thatislandview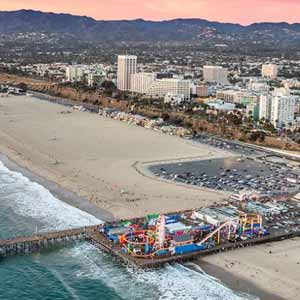 The World's 50 Most Beautiful Beaches for Ultimate Relaxation
Redbook Magazine
Santa Monica Beach is one of Los Angeles County's most beautiful strands, and its iconic pier is a can't-miss attraction. In addition to an amusement park (a ride on the Ferris wheel is a must), you'll also find an aquarium, a historic carousel, and snack stands.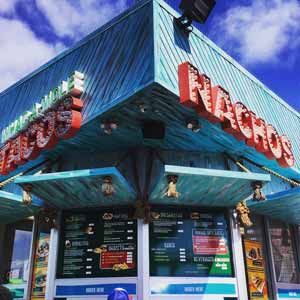 National Taco Day 2020 Will Be Deliciously Full of Deals
NBC Los Angeles
The Pacific Wheel, located in the Santa Monica Pier's Pacific Park, will pay tribute to the taco with a host of illuminated designs set to shimmer on the side of the giant solar-powered Ferris wheel. That shimmering starts at sunset, and wraps at 12:30 a.m. on Oct. 5, so you might want to set an alert to start your taco-focused festivities earlier in the day, before the taco show begins.
Photo by @marcdyen
Pacific Park on the Santa Monica Pier has been featured in over 1,000 movies, TV shows and music videos, and is regularly featured in the press. As the most Instagrammed location in Los Angeles, the Pier regularly hosts social media influencers, Twitch streamers, YouTubers, and content creators. For more information on partnering with Pacific Park, read about media inquiries for the Santa Monica Pier.