The Santa Monica Pier welcomes a variety of classic cars and motorcycles with 'Best of Class' prizes awarded, family fun event to support SMPOA 'Survivor Fund'
The Santa Monica Police Officers Association, SMPOA, is hosting its 2nd annual classic car show complete with prizes, refreshments and fundraising on the Santa Monica Pier on Saturday, August 26 from 9 a.m. to 3 p.m. Chemical Guys and Liquid Death, are sponsoring the free event.
The "Coastin' to the West Coast" show will feature a variety of classic cars and motorcycles in competition for the following prizes: Best Hotrod, Best Paint Job, Best Lowrider, Best in Show and Best Classic. Guest judges Chip Foose and Mitch Lanzini will review and present the awards. Participants will need to pre-register their car or motorcycle online for $45 at tinyurl.com/SMPOA-CarShow. Depending on space availability, registration will be $50 at the event. All proceeds will go to the SMPOA Survivor Fund. All cars and motorcycles registered for the car show must be in place on Saturday by 8 a.m. The entrance to the Santa Monica Pier, off the main Pier entrance ramp on Ocean Avenue and Colorado Avenue will open at 7 a.m.
WHAT:
Classic Car Show Benefiting the Santa Monica POA
WHEN:
Saturday, August 26, 203
9 AM – 3 PM
WHERE:
Santa Monica Pier
Outside the east gate of Pacific Park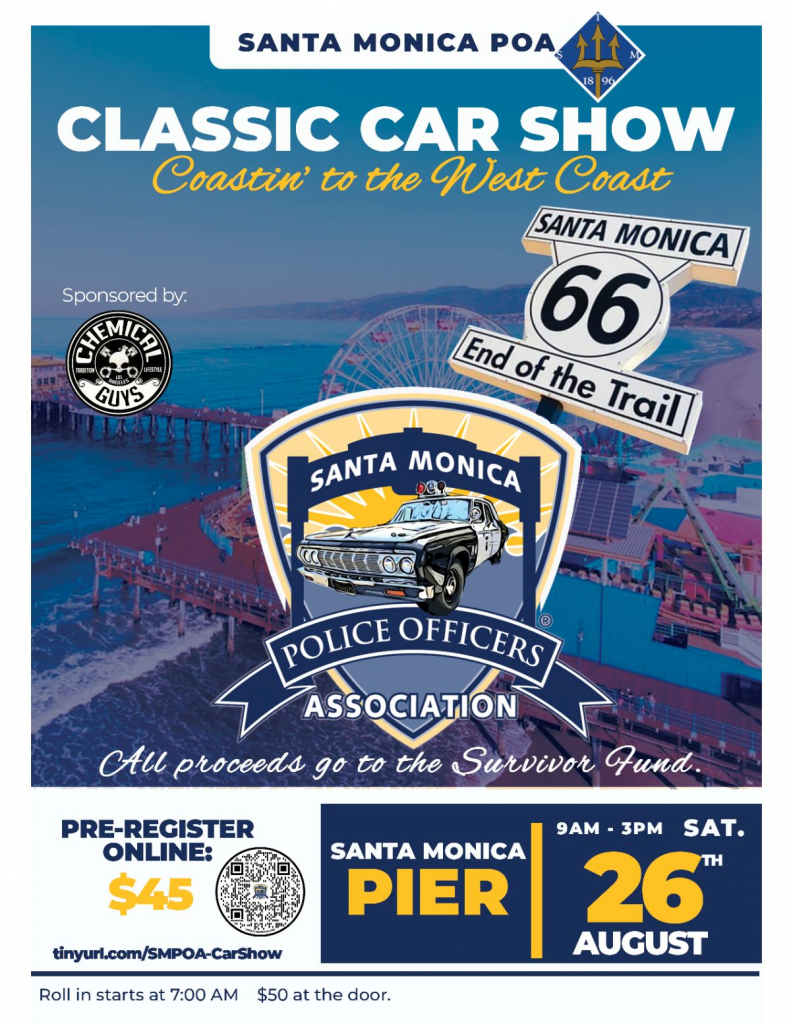 In addition to seeing the hot rods and rad rides, there will be raffle tickets available at the event for great prizes. Delicious food will be sold at The Albright and Rusty's restaurants and a beer garden will be open provided by Santa Monica Brew Works. Also, special "Coastin' to the West Coast" event T-shirts will be available for $30.
"We look forward to seeing everyone in the community at our 2nd annual classic car show on the Pier. This is one of the best attended events that we've hosted and will be great family fun," said Erika Aklufi, Public Information Officer at Santa Monica Police Department. "The event generates awareness in the community for police programs and helps to raise funds for the Police Officers Association to assist less fortunate families in dire circumstances."
The SMPOA Charity Fund was created after the death of SMPD Officer Ricardo Crocker who passed away while on active duty in Iraq in 2005. The charity assists police families with transportation, funeral services, and addresses specific survivor needs at a time of tragedy involving death of a police officer. The charity donates to all police officer families in California whose loved ones have died while in service to their community. Donations to fallen officers outside of California are made on a case-by-case basis.
About Santa Monica Police Officers Association (SMPOA)
It is the mission of the Santa Monica Police Officers Association to protect, enforce and enhance the rights and benefits of its members. The SMPOA strives for a better quality of life for its members and the citizens of Santa Monica through proactive community involvement.
---
Feature image courtesy of @aliexpress