Natural hair care and salon purveyor Fekkai builds a full 2-storey salon experience on the Santa Monica Pier bringing people to the beach to help clean up and get styled.
To celebrate the launch of FEKKAI, a new clean, sustainable hair care line, Fekkai is partnering with Heal the Bay to bring a one-of-a-kind salon experience to the Santa Monica Pier where clean hair and a clean beach are the ultimate goals.
What to Expect at the FEKKAI Beach Salon
Participate in a beach clean-up
Get your hair styled at FEKKAI's Beach Salon*
Receive a gift when you bring 5+ recyclable items (bottles, clothing, shoes, etc.) to donate at FEKKAI's Recycling Bank
Touch and try the new, clean FEKKAI
Check out the many FEKKAI Instagrammable moments
When is the FEKKAI Beach Salon Event?
Friday, January 24th
Beach Clean-Up: 2:00pm – 4:30pm
Salon Hours: 2pm – 7pm
Saturday, January 25th & Sunday, January 26th
Beach Clean-Up: 10am – 4pm
Salon Hours: 10am – 7pm
Where is the FEKKAI Beach Salon?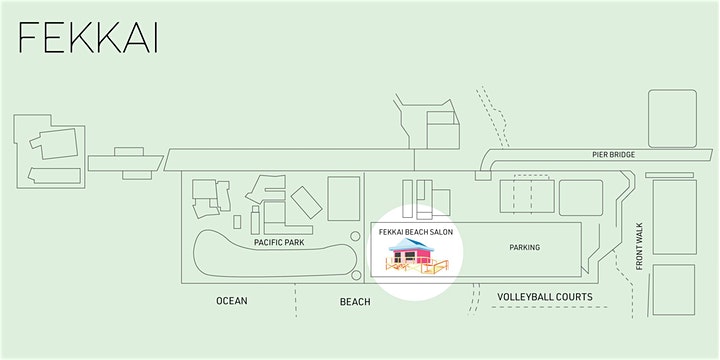 The 2-story salon pop up is located on the upper-pier parking deck just outside of Pacific Park's east entrance. From the Pier boardwalk, walk to the south (Venice) side of the Pier. The Salon will be behind Pier Burger and Pacific Park. From the beaches south of the Pier, walk up the stairs closest to Pacific Park and you'll be right there.
Participants are encouraged to RSVP on the event's EventBrite Page. For more information about this event, be sure to follow @FEKKAI on Instagram.
The Fekkai Beach Salon Pop-up is a temporary brand activation produced by Mission US. The weekend-long consumer experience will be constructed on the Santa Monica Pier's upper parking deck as a temporary rental partnership with the Pier. For more information about how to bring your brand or consumer experience to the Santa Moncia Pier, read more at pacpark.com/sponsorships.