The world's only solar-powered Ferris wheel gives visitors a panoramic view of the Southern California coastline from more than 130 feet above the Santa Monica Pier. Measuring 85 feet, the Wheel moves at 2.5 revolutions per minute with intermittent stops to pick up passengers. Features more than 174,000 energy-efficient LED lights that display dynamic, eye-popping computer-generated lighting entertainment in the evenings.
No single riders are allowed on the Pacific Wheel
Single riders on gondola-style Ferris wheels like the Pacific Wheel are prohibited by the manufacturer's guidelines. Pacific Park abides by all safety protocols issued by the State and ride manufacturers. There are no exceptions to these safety rules.
Guests can ask other park visitors if they would like to ride together. If a guest services associate is available, they can ride along with a guest, although this courtesy is best requested in advance at guestservices@pacpark.com. 
See the Pacific Wheel and watch our nightly light programs on our live-streaming webcams.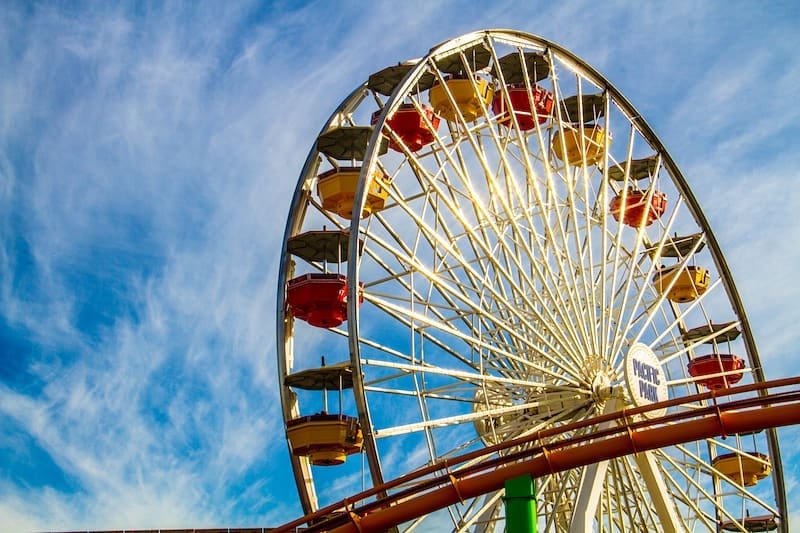 The Pacific Wheel is the world's first solar-powered Ferris wheel.
Height Requirement: 42" or under 42″ with adult. All riders above the age of 3 must have a valid ticket or wristband.
State law prohibits single riders on open gondola-style Ferris wheels.
Upcoming Light Programs on the Pacific Wheel
There are no upcoming events.