On September 10, 2023, over 6,000 participants will run along the Pacific Ocean to raise funds for patients and families affected by health-challenges within the neurology community.
Runners will once again tap the storied boardwalk of the Santa Monica Pier on completion of their 5K or 10K efforts in the Santa Monica Classic. Starting on Saturday, September 10 at 8 AM at Ocean Park, these athletes will kick off the fall racing season with one of the most scenic point-to-point races in the world.
WHAT:
Volvo Santa Monica Classic presented by ASICS
10K and 5K runs
WHEN:
September 10, 2023
5K starts at 8 AM; 10K starts at 8:30 AM
WHERE:
Start: Ocean Park, 2600 Barnard Way, Santa Monica, CA
End: Ocean & Colorado Blvd (Top of Santa Monica Pier)
The Santa Monica Classic is one of 3 local Los Angeles races that lead up to the LA Marathon that takes place each March across the LA basin. Offering both 5K and 10 K courses which are flat, benefit from cool coastal breezes, and carry runners through beautiful beach-side sites such as Muscle Beach, Main Street in Santa Monica, and Palisades Park. Runners of the 5K course will cover about 3.1 miles from the beach, up Main Street, a lap by Palisades Park, then to the finish line at the top of the pier, while 10K runners will continue past the pier, up San Vincente Blvd before looping back around at 11th street to return to the pier for a total of 6.2 miles. The Santa Monica Classic is an excellent entry into distance running for participants of any age and skill level.
Finishers and spectators can also check out the Finish Festival hosted on the Santa Monica Pier behind the Merry-go-round building from 8-11 AM. Race sponsors and partners will have samples, freebies and loads of information about running and the McCourt Foundation that manages these running events to support healthier lifestyles and raise money for neurological research.
The Santa Monica Classic is one of the most anticipated run events of the season. With only 6,000 spots available, this run typically sells out well before race day. If you missed out on registering for this year's event, you can still attend the Finish Festival. If you're not sure how to get started in distance running, the LA Road Runners offer a free, self-guided training programs for athletes at any skill level to get started.
Race Information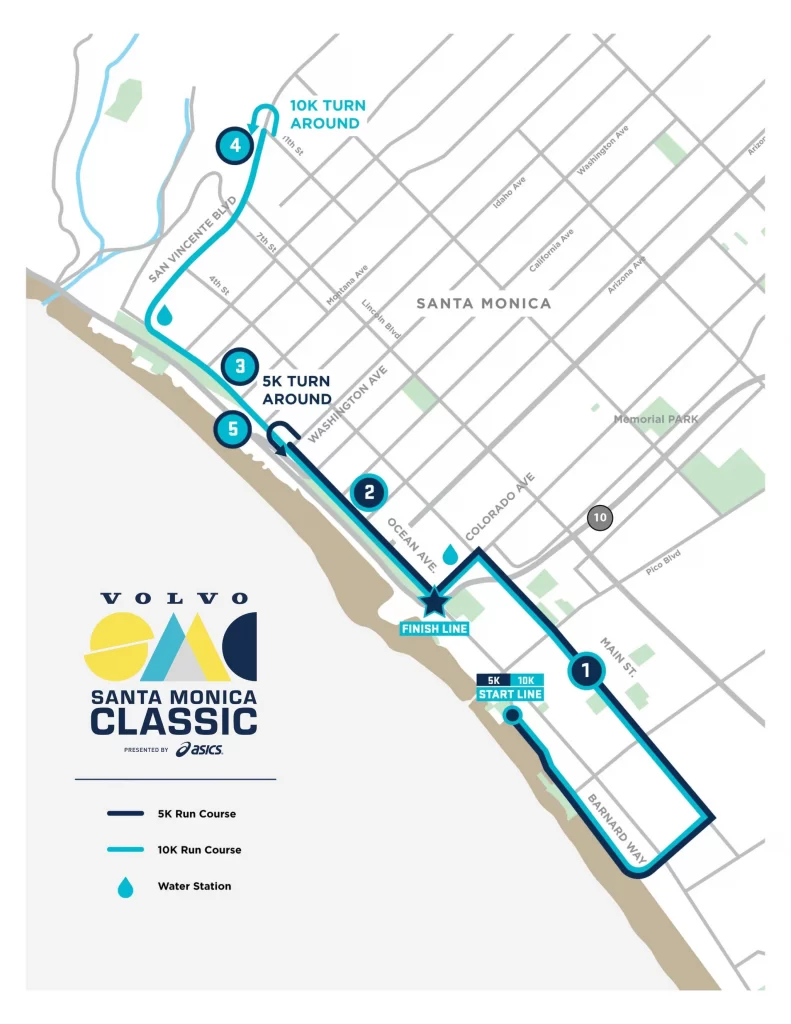 Registered runners can pick up their bib and runner information packet at the Big 5 Sporting Goods on Wilshire Blvd the day before the race (10am – 4pm) or the morning of the race at the starting line (6:30am – 8am). The starting line is located on Ocean Front Walk at the intersection Barnard Way and Ocean Park. There are several parking lots in the area including Lot 4 South and Lot 5 South; race participants can arrange for a prepaid parking pass through the race registration page.
After runners pick up their information packets, the corrals, areas at the start line where runners gather prior to the start, will open around 7:30 am. This is the time runners have to start stretching and warming up before their event begins. Runners participating in the 5K run will begin their race at 8 am, while the 10K runners will start at 8:30 am. At 10:15 AM, there will be a shorter fun-run for kids.
The course starts south on Barnard Way and runs by Ocean View Park and South Beach Park before turning inland 2 blocks to Main Street. The course then returns runners north through the Main Street shopping and dining district, past City Hall and Tongva Park, before turning west on Colorado Boulevard where runners will continue to Ocean Avenue. Runners will get their first glimpse of the famous Santa Monica Pier Yacht Harbor Sign and finish line, but won't cross the checkered floor just yet – they must first run a lap up Ocean Avenue alongside the Shore and Fairmont hotels.
At Washington Avenue, participants of the 5K race will follow signs to the west side of Ocean Avenue that will take them back south towards the finish line at Ocean and Colorado; 10K runners follow signs to continue north on Ocean Avenue. These runners still have another 3 miles to go! The course continues on Ocean, then again turns inland at San Vincente Blvd. This tree-lined thoroughfare carries runners as far as 11th street where they turn to the southbound lanes for the final leg to the finish line back at Ocean and Colorado.
After crossing the checkered finish line at Ocean and Colorado, runners will get their photos with the famous Santa Monica Pier Yacht Harbor sign, then head down the pier ramp to the Finish Festival. There, race participants can pick up their participant t-shirt, enjoy runner food, live music, ASICS demos, and check out free activities offered by race sponsors Volvo and Big 5 Sporting Goods. Family and friends are welcome at the Finish Festival!
Santa Monica Classic runners can also enjoy great beer at Santa Monica Brew Works on Colorado and 20th. After leaving the pier, drop by and present your Santa Monica Classic runner's bib on race day and receive 50% off your first two beers.
Training Plans
LA Road Runners (LARR) trains and supports those who wish to participate in the Los Angeles Marathon, Santa Monica Classic, Rose Bowl Half Marathon and other races through training programs, expert coaching, social events, information sharing, and coaching tips. You can sign up for the LARR newsletter to get updates and tips. You can find downloadable training plans for all training levels on the Santa Monica Classic website. If you're more interested in coached, in-person training for the Los Angeles Marathon and Rose Bowl Half Marathon, consider signing up for the LARR Training Program – a 26-week training program that kicks off in September.
About the McCourt Foundation
The Volvo Santa Monica Classic presented by ASICS is operated by The McCourt Foundation. Since 1992, The McCourt Foundation (TMF) has been an organization whose mission is to empower individuals and communities to build a healthier world and make a difference through the support of neurology research, hosting educational forums, and using its events as a platform to raise funds for charity partners. Further information about the 2023 VOLVO Santa Monica Classic presented by ASICS can be found online at santamonicaclassic.com and follow along on social media @LAMarathon.
Since 1992, TMF has been dedicated to enhancing the lives of patients and families affected by health-challenges within the neurology community and beyond. The mission of TMF is striving to cure neurological diseases while empowering communities to build a healthier world. This is accomplished by supporting neurology research, hosting educational forums, and using events as a platform to raise funds for charity partners.
With events in Boston and LA, the giving capacity and overall impact of TMF can be felt from coast to coast. Los Angeles area events include The Santa Monica Classic, LA Big 5K, Rose Bowl Half Marathon and, of course, the LA Marathon. Proceeds from these running events support research and education for several including Alzheimer's, ALS, Parkinson's and MS.
TMF also hosts free educational forums for patients and caregivers battling neurologic diseases. Highly renowned physicians present the latest research and therapeutic approach to elevate public awareness and provide valuable resources for patient advocacy. These events provide unique access to many sought after physicians and often include invaluable Q&A sessions following the presentations.
---
Feature image courtesy of @_juaneezy_