See classic cars and hot rods on display at the Santa Monica Pier with proceeds benefiting Pico Youth & Family Center.
The Pico Youth & Family Center (PYFC) proudly presents the 3rd Annual Santa Monica Classic Car Show on the Santa Monica Pier Saturday, September 9th, from 10am to 4pm. You can lowride for a cause at this family-friendly event where all proceeds will benefit youth services and after-school programming for underserved youth in Santa Monica and Los Angeles County.
Last year, more than 3,000 people attended the Pico Youth Center "End of Summer" Car Show. The year's event is once again free for all spectators and guests. See over 200 classic cars of various makes and models, some dating back to 1930s.
WHAT:
Santa Monica Pier Classic & Hot Rod Car ShowWHEN:
September 9, 2023
Roll in time, 7-9 AM
Show time 10 AM – 4 PMWHERE:
Santa Monica Pier Deck
Outside Pacific Park's East Gate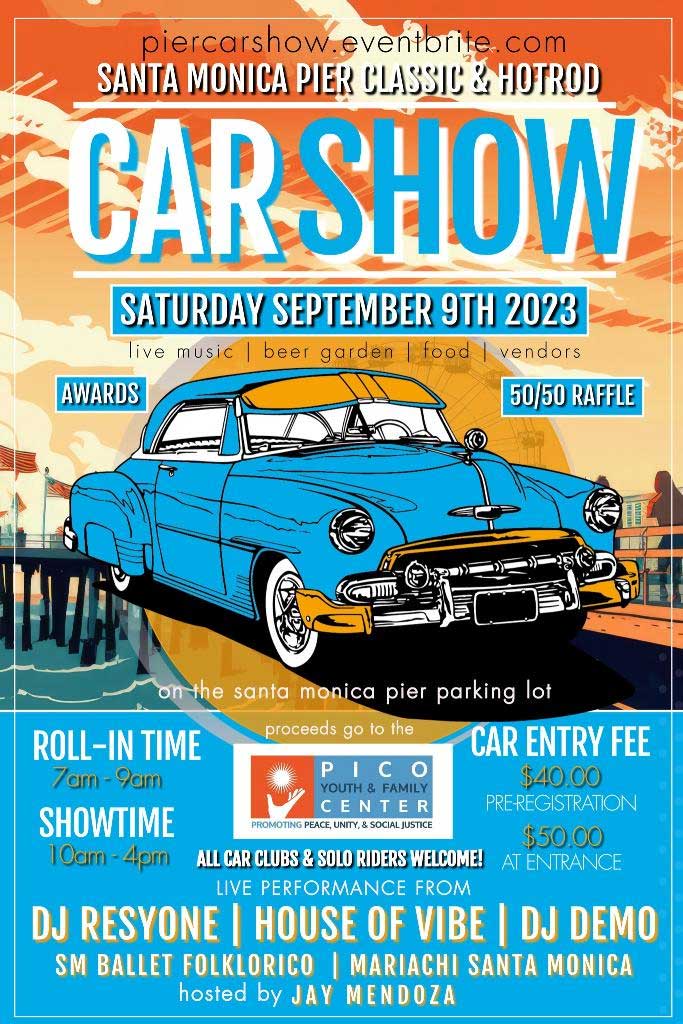 All solo riders and classic car clubs can register in advance for $40 per car; day-of registrations for $50 per vehicle offered until the lot fills up. Roll-in time for all vehicles is 7am to 9am – strictly enforced! Find more information and register your car now at Piercarshow.eventbrite.com.
This year show will feature live music performances from DJ Resyone, House of Vibe, and DJ Demo. Santa Monica's Ballet Folklorico will perform as will Mariachi Santa Monica.
The Santa Monica Pier Classic & Hot Rod Car Show provides an opportunity to bring unity and awareness to the community that lowriding culture still thrives in the Westside of Los Angeles. Through this family-friendly event, event organizers plan to educate and inspire everyone, but especially youth, to have pride in their culture and to contribute to the continuation of this beautiful art form know as low rider culture. Santa Monica City Councilman Oscar de la Torre stated "This car show is necessary to celebrate our region's cultural diversity that is at risk of extinction."
About Pico Youth & Family Center
Pico Youth & Family Center (PYFC), is a non-profit organization committed to serving the youth and families of the Pico Neighborhood in Santa Monica. The PYFC supports, educates, and inspires our youth, creating opportunities and preventing violence. The organization serves hundreds of youth annually, ages 16-24 who are most at risk, through case management, counseling, tutoring, job readiness training, leadership development, music, art and computer training. Through proven services and caring staff support, the organization seeks to bring hope to the lives of Santa Monica's less fortunate youth.
---
Feature image courtesy of @pyfcsantamonica