The tour stops will provide fans the chance to see and take photos with football's most coveted prize up close in their own communities. Trophy Tour stops will be FREE and open to the general public and will feature appearances from Los Angeles Rams Cheerleaders, mascot Rampage, a merchandise trailer, and more.
Following the Los Angeles Rams historic 2021 season that concluded with a Super Bowl LVI victory at SoFi Stadium, the team is taking the Vince Lombardi Trophy on an 11-stop tour that will travel more than 2,000 miles throughout Southern California and Mexico.
The eight-week championship trophy tour will travel through regions including East LA, Inglewood, Inland Empire, Orange County, Santa Barbara, San Diego, Santa Monica, and Thousand Oaks. The Vince Lombardi Trophy also will travel abroad to Mexico, one of the team's International Home Marketing Areas.
"We are so excited to celebrate our Super Bowl LVI victory with the fans who continue to inspire us with their dedication, passion, and support for our team on and off the field," said Los Angeles Rams Chief Marketing Officer Kathryn Kai-ling Frederick. "This was a historic year for our franchise in so many ways and it was made possible through the commitment of supporters who cheered us on at SoFi Stadium, from their own homes, and in their communities. We're thrilled to have the chance to bring the most iconic trophy in sports to Rams fans throughout the region for this momentous celebration."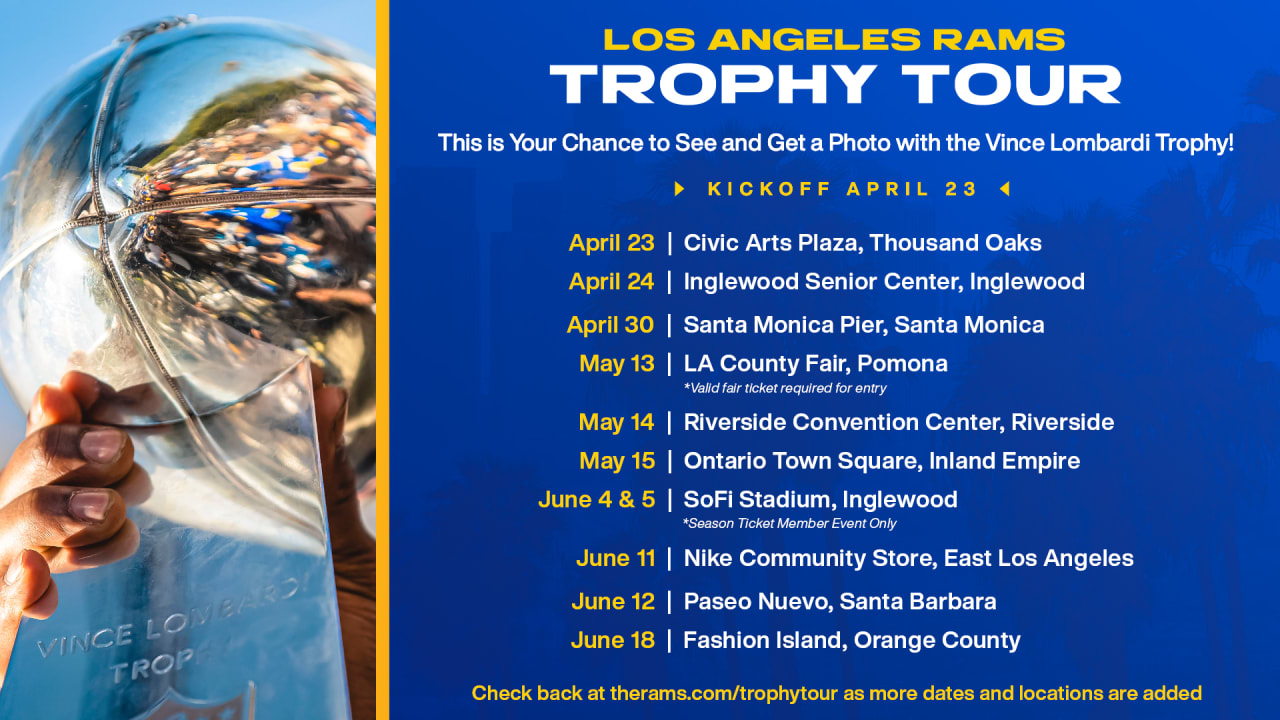 Tour stop dates and destinations will include:
·      Thousand Oaks Civic Arts Plaza on Saturday, April 23
·      Inglewood Citizen Center on Sunday, April 24
·      West End of the Santa Monica Pier on Saturday, April 30
·      LA County Fair in Pomona on Friday, May 13
·      Riverside Convention Center on Saturday, May 14
·      Ontario Town Square on Sunday, May 15
·      SoFi Stadium on Saturday, June 4, and Sunday, June 5 (Invite Only for Season Ticket Members)
·      Nike Store in East LA on Saturday, June 11
·      Paseo Nuevo in Santa Barbara on Sunday, June 12
·      Fashion Island Mall in Newport Beach on Saturday, June 18
·      Location in San Diego (to be announced at a later date)
The Super Bowl LVI Vince Lombardi Trophy also will make appearances at City Year Los Angeles' spring break, an LA Dodgers game, and an LA Kings game. Last week, the championship trophy appeared at the Arrow McLaren SP Race: Grand Prix of Long Beach and the Santa Anita Derby.
More details and the full trophy tour schedule is available for fans at www.therams.com/trophytour.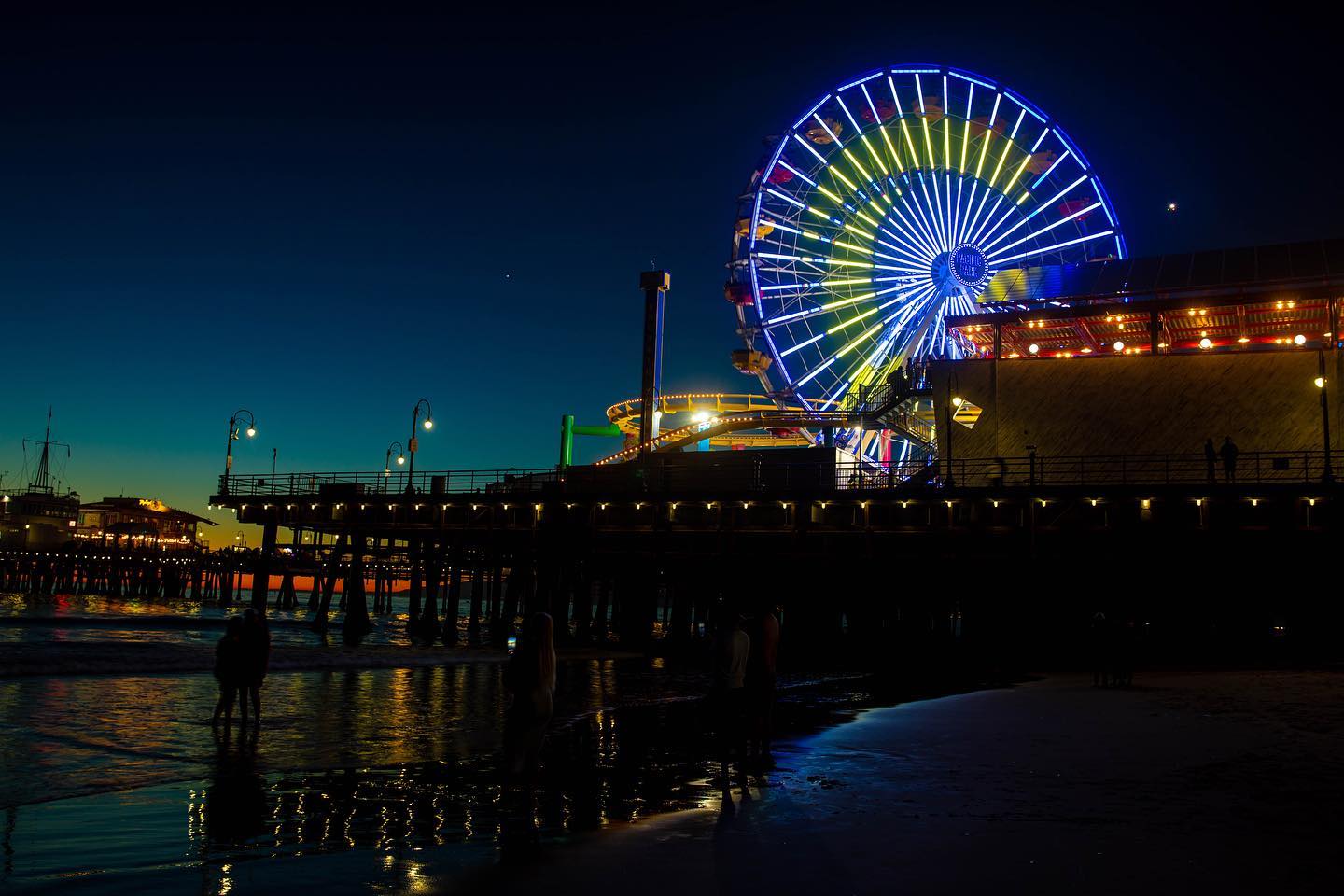 Santa Monica Pier to Show Rams Lights in Blue and Yellow following the Team's Win at Super Bowl LVI.
Pacific Park will once again show the Rams colors in a special light program on the world-famous Pacific Wheel. Towering 12 stories over the shimmering Pacific Waters, the Ferris wheel will show a special light program in the Rams yellow and blue and features designs and animations including the team mascot and helmet. The lights come on shortly after dusk and will run until midnight on Friday and Saturday nights. The program runs all night long starting at dusk until about midnight. The program features Rams colors, icons, and insignias as well as the team mascot. Enjoy watching the light program online at www.pacpark.com/live.
WHAT:
Special Lighting of the Pacific Wheel for Rams Super Bowl Trophy Tour
WHEN:
Friday, April 29 to Saturday, April 30th
dusk (around 7:30 PM) to midnight
WHERE:
Pacific Park on the Santa Monica Pier
Pacific Park regularly programs the Ferris wheel to display seasonal programing and themed light designs for holidays and special occasions. The Pacific Wheel's state-of-the-art lighting package was installed in 2016 and can display over 1.6 million different colors and animate patterns and icons in 24 frames per second. The energy efficient LEDs on the face of the Ferris wheel are powered by solar arrays inside Pacific Park. The light programs are curated and designed by Pacific Park staff. Each design is manually animated; some designs can take hours of programming. The aim is to provide fun, high-energy, and sometimes whimsical designs to entertain guests on the Santa Monica Pier and surrounding beaches.