Pacific Park offers great group rates for parties of 12 or more people. Groups can receive discounted prices on unlimited ride wristbands, meals, game play, and more. Get the best price by making your reservation at least three days in advance and there is no upfront payment or deposit required. The Park offers a flexible payment plan for groups so no need to stress about getting your final order until your check in time at the ticket booth. The Park's iconic location and compact size makes it a desirable and safe visit for any school, camp, youth, or travel group.
Non-profit groups visiting the Santa Monica Pier in 2020 can expect almost 50% off the gate price of an unlimited ride wristband. That's hours of fun on our 12 amusement park rides at a low rate, including the world-famous Pacific Wheel Ferris wheel. New this summer, you can visit on 1 or 2 of our designated Camp Days (or both!) and receive an extra $3 off per wristband. Camp Day is scheduled for Tuesday, June 16th and Tuesday, August 11th. Learn more about Camp Day here.
Groups can choose from several different meal plans, such as a group pizza party that comes with reserved seating, a water and lemonade stand, and two large slices of cheese pizza per person. Pizza parties are limited to weekdays in during peak season (mid-May through mid-August) from 11A-2P and require at least a two week advance reservation, with limited availability. If you'd like to offer your group a wider selection of food to choose from, the meal card might be for you. With 12 different combo meals to choose from, each individual member of your group can decide what they'd like to eat or are craving on your day of visit. Treat everyone to a classic popcorn or sweet cotton candy with one of our treat cards after!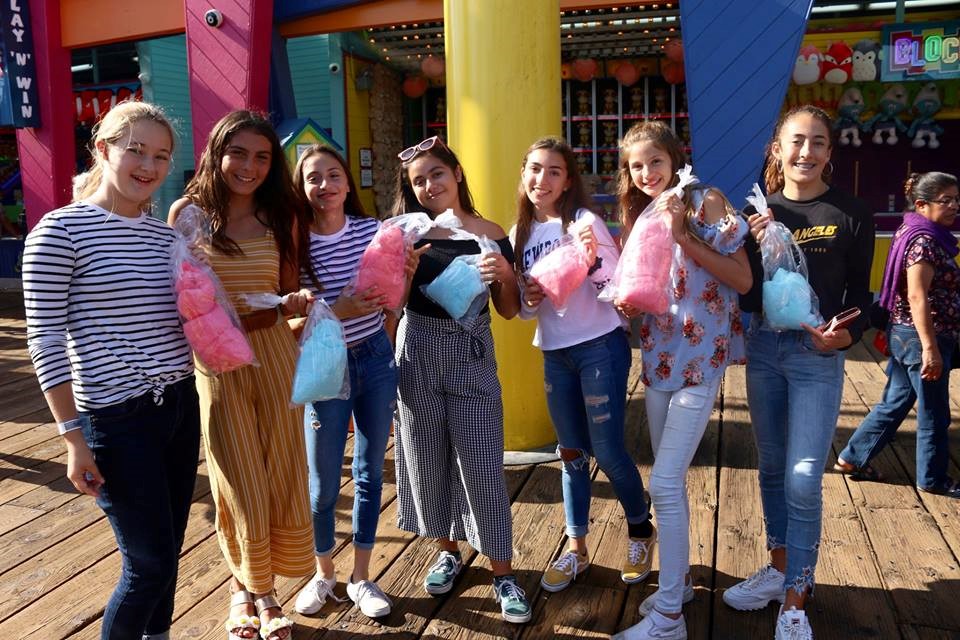 Let everyone try their luck at one of our 14 midway games when you purchase our game play cards – for every $5 you put on a card, we'll give you an additional $1 free! Winners can take home a fun prize that will remind them of this trip for years to come.
Pacific Park works with many camps, schools, and youth groups each year to let everyone experience the fun at a discounted rate. The local Santa Monica PAL brought their kids down for an afternoon of fun in the sun – learn more about their visit here!
For more information on group sales, or to book your group today, email groups@pacpark.com, or fill out the request form here. All inquires will be responded to within one business day of receipt, Monday-Friday, between the hours of 9AM-4PM.