The LA Galaxy will celebrate LA Galaxy Week, a week of programming in the buildup to the club's home opening game, from Saturday, February 29th through Saturday, March 7th, ending with the LA Galaxy versus Vancouver Whitecaps FC game at 7PM in Carson, CA. This season marks the LA Galaxy's 25th year in Major League Soccer representing Los Angeles.
LA Galaxy Week will kick off with a Watch Party at Tom's Watch Party for fans to watch the club's match on the road against Houston Dynamo on Saturday, February 29th. Other events include a special Wheel lighting at Pacific Park, player appearances throughout LA, LA Galaxy Day, and more.
Sunday, March 1st marks LA Galaxy Day, taking place at local businesses throughout the city. Fans wearing LA Galaxy gear can get discounts at participating local businesses, including Firestone Walker Brewing Company, Canter's Deli, Original Tommy's Hamburgers and more. See the full list of participating businesses here.
On Tuesday, March 3rd LA Galaxy will light up the Pacific Wheel, the world's first and only solar-powered Ferris wheel, with the LA Galaxy logo and team colors. The lights will come on at dusk and can be viewed from the beach south of the Pier, Pallisaddes Park, or from the Pier itself. Fans are also invited to gather for a happy hour down the street at Ye Olde Kings Head in Downtown Santa Monica. If you can't make it to the Park to watch the Wheel lighting in-person, be sure to watch from home on our live cam at www.pacpark.com/live.
This is the third year in a row that LA Galaxy has teamed up with Pacific Park in advance of the home opener. LA Galaxy sponsors Penalty Kick, a midway game located inside Pacific Park that allows players to test their soccer skills by kicking a ball at one of five different targets.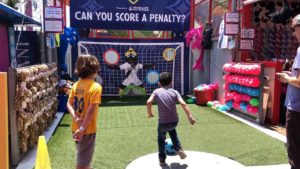 Additional details for LA Galaxy Week can be found here.