Paris Hilton and Carter Reum took over Pacific Park on the Santa Monica Pier for an epic wedding afterparty in 2021. The happy newlyweds returned to the amusement park one year later to celebrate the next milestone on their journey together.
Paris Hilton's Santa Monica Pier takeover happened on November, 11 to create "Slivingland" – an immersive celebration of her new media venture, 11:11 Media. The date was important as it is the anniversary of her marriage to her husband and partner, Carter Reum. The couple invited hundreds of their closest friends to celebrate the launch of the new media company and to commemorate their first year of marriage. The star-studded party featured interactive experiences from technology start-up Proto and a virtual reality experience from Meta Quest.
11:11 Media partnered with event specialists emc3 Media to customize the interior of Pacific Park with a glittering marquee at the main entrance, followed by a lighted tunnel that led guests to the midway where the classic boardwalk games had been customized to feature prizes from Paris Hilton including blinged out active ware and custom pillows from @thatpillowguy. Guests were also invited to play a custom-fabricated Roll-a-Ball race game built by We Are BMF where winners could win a bottle of Paris's newest fragrance, Love Rush, created by Parlux Ltd.
The centerpiece inside the venue was a towering iHeart Radio DJ stage fitted with dozens of brilliant LED light panels. DJs Zedd and Diplo were featured artists who performed from the stage situated underneath the iconic Pacific Wheel. Slit walkers and costumed performers danced amongst the party guests to set the futuristic tone of the evening.
VIP guests, including Paris' Sister Nicki and mother Kathy, took in the sights and sounds of the neon-lit revelry from inside a plush, white and pink lounge constructed underneath the iconic Pacific Park neon sign that typically serves as the park's main entrance. The lounge was located next to an expansive mirrored bar serving specialty cocktails though out the evening.
Some guests discovered a hidden speak-easy hidden in the northwest corner of the park adjacent to the Seaside Pavilion. Through an almost-invisible break in a wall of hedges, guests could discover a quiet respite from the dance vibes emanating from the iHeart Radio stage inside an extremely exclusive bar serving high-end spirits and tastes of imported caviar from a customized boardwalk cart.
11:11 Media partnered with Meta to provide their guests with a one-on-one experience with Meta Quest, a standalone VR headset that doesn't require pairing with an expensive PC. Users of Meta Quest can access the metaverse, a user-created, virtual world where people can interact online. Paris has been an early adopter of the metaverse and related technologies; Paris World, Hilton's virtual experience on the popular gaming platform Roblox, is a creative space for Paris's fans to interact with Paris and her brands.
Another technology demonstrated at the party was Proto Hologram, a first-of-its-kind hologram technology that can display a life-like, 3-dimensional model of a person or product inside their display device. Guests were encouraged to take a snapshot or selfie with the lifelike Paris Hilton hologram.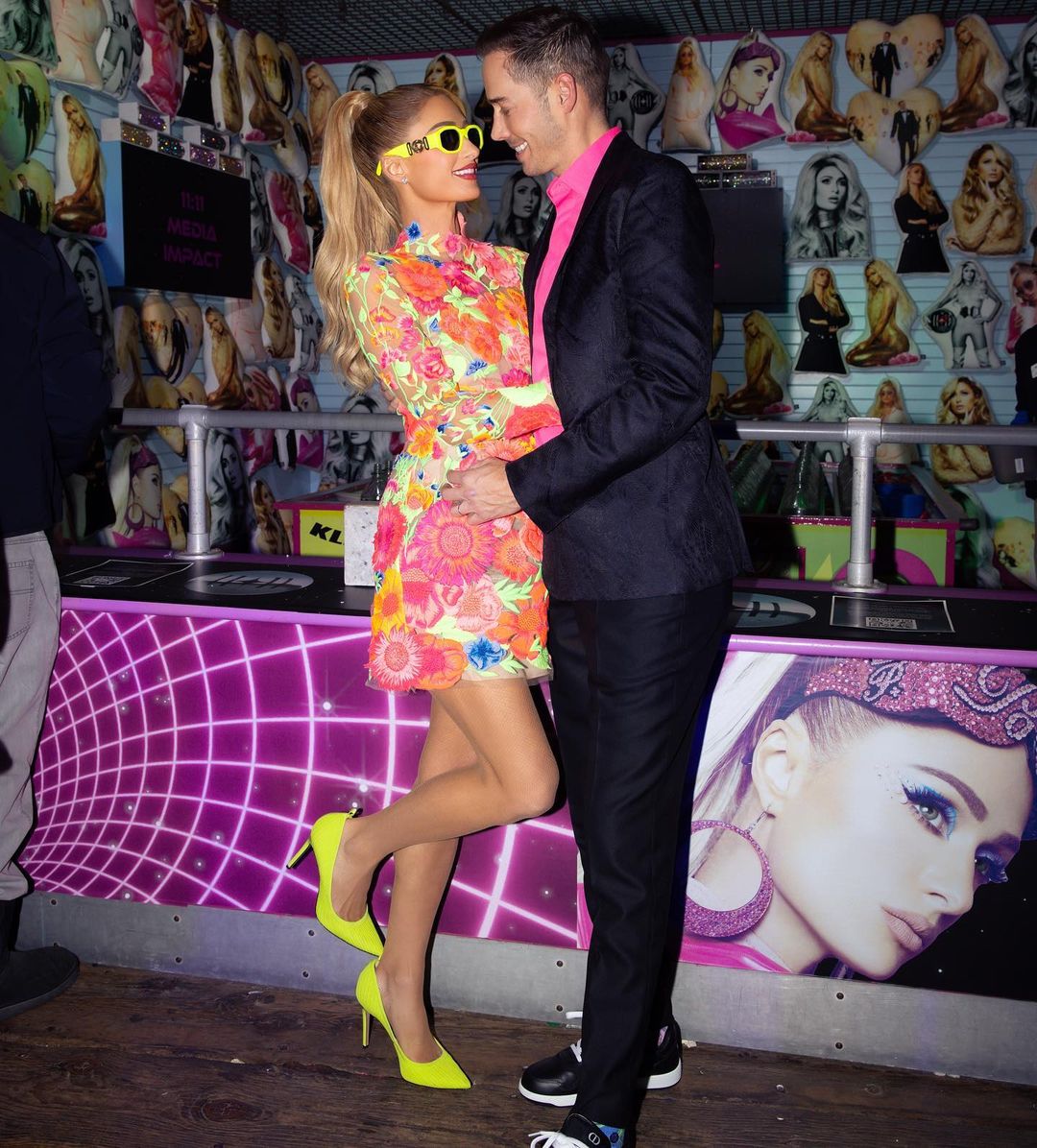 As the evening continued, Paris changed into a bright pink bodysuit covered in her signature phrase "Sliving" which was meticulously spelled out in glimmering Swarovski crystals. She took over the stage DJing for her friends and guests who continued partying into the night. During Paris' DJ set, guests were delighted by 500 lights dancing in the night sky above Santa Monica Beach.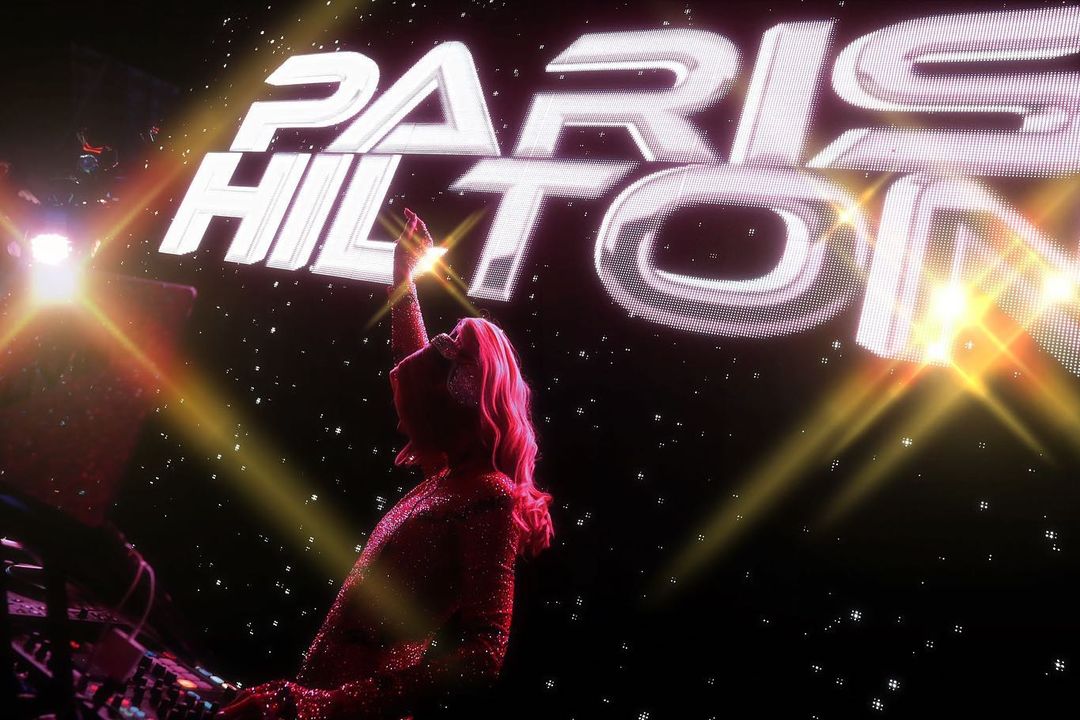 A surprise drone light show over the Santa Monica Pier displayed a futuristic dreamscape including a rainbow unicorn, a bursting heart, and Paris' own signature in sparkling letters. The delightful designs were all timed to music DJ Paris mixed live from under the Pacific Wheel which was also lit bright pink. The drones were choreographed to animate various shapes and patterns like the new "11*11" icon and spelled out signature phrases from the evening like Slivingland and #HiltonReumForever.
Check out the full show below.
According to TMZ, guests included Tiffany Haddish, DJ Nice, Rebel Wilson, Ryan Phillippe and more. Everyone was treated to In-N-Out burgers and treats from the pier's boardwalk carts.
The party hosted at Pacific Park on the Santa Monica Pier followed the 11:11 Media Innovation Summit, an incredible day of Web3, creators, and brands. Paris Hilton and 11:11 Media invited 100 leaders in Web3 for an opportunity to connect with venture capitalists, founders, and brands that are committed to building and investing in Web3 and creators.
Paris and Carter took over the Santa Monica Pier in 2021 for the evening following their nuptials in Beverly Hills on November 11, 2021. The "neon pink carnival" featured celebrity entertainment, fun boardwalk foods like Hot Dog on a Stick, and prizes from Paris Hiltons line of products. The date, 11/11, continues to be an important theme as the couple launch this new venture.
More about 11:11 Media Company
11:11 Media is a global media content company and platform, that elevates creators, brands, and intellectual property through the power of storytelling: inspirational, impactful, and thought-provoking premium entertainment, content, experiences, and products. Founded by Paris Hilton and Bruce Gersh, with divisions across television, audio, digital, impact, and licensing, 11:11 Media provides an in-depth understanding of creator-led brands with scale, authenticity, and purpose.
Events at Pacific Park on the Santa Monica Pier
Pacific Park is an iconic location for private events, company picnics, wrap parties, movie premiers, and more. With over 2 acres of real estate out over the waters of the Pacific Ocean, the amusement park is a one-of-a-kind venue for over-the-top parties and celebrations. Pacific Park's Seaside Pavilion offers spectacular views of Malibu, the Pacific Ocean and Catalina Island, and can accommodate up to 200 guests reception style in the 3,600 sq ft space. For larger events, the entire Park can be rented exclusively for up to 1,500 guests who can enjoy exclusive access to classic amusement park rides, midway games, and boardwalk treats.
Featured image provided by Chelsea Lauren/ Shutterstock