Guest blogger Valerie from My One Big Planet stopped by the Park a few weeks ago! Read on for her review:
If you're visiting Santa Monica it's a must that you visit Pacific Park, located on the Santa Monica Pier. This amusement park hosts 12 rides, tons of midway games, delicious food outlets, and loads of shopping experiences. Spend a few hours here taking advantage of the rides, food, and amazing views.
Best Rides
For some of the best views of the Santa Monica mountains and Southern California coastline you gotta check out the Pacific Wheel. It is known as the world's only solar-powered Ferris wheel which soars more than 130 feet from the pier. It isn't one of those one loop Ferris wheels either it brings you around multiple times so you can enjoy the ride longer. This is one of my favourite parts in the whole park. I couldn't get over how high up we were and the stunning views.
The best thrill ride in the park is hands down the West Coaster. It takes you around the park at a speed of 35 mph escalating to a height of 55 feet. If you're looking for fun and excitement then you have to try this one. We had front row seats which made it even more exciting.
Swing your way into fun on the Seaside Swing! This ride is not one to be missed. By swaying ugh above the ground you get some of the best views including the Pacific Ocean and Beach Boardwalk. Relax and watch the world go by!
Where to Eat
Whether you're craving pizza, burgers, ice cream or funnel cakes, you can find an assortment of food stalls along the Pier. You can't do an amusement park without some tasty treats! Popcorn is always a big winner for me! Head over to Beach Burger for a classic American burger and fry or check out Coffee Bean & Tea Leaf for coffee or hot chocolate. Pacific Park offers traditional favourites such as popcorn, cotton candy, churros and pretzels if you're looking for a delicious snack between rides too!
Where to Find the Best Photo Ops
The Santa Monica Pier is extremely photogenic. Tons of movies and TV shows have been shot here because its such a cool and unique place. Stroll down the Pier towards to end and face Pacific Park diagonally to find one of my favourite spots. Snap some shots on the Pacific Wheel while you're soaring high in the air, or hit up some games showing off your sweet talents. Don't forget about the food! Indulge in some cotton candy outside the Pacific Pier sign for a memorable shot.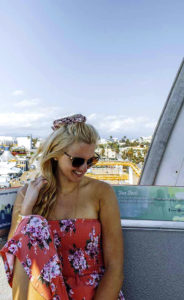 To read the rest of Valerie's article, visit her website. Valerie is a travel blogger who curates My One Big Planet out of Ontario, Canada.
Have a story to tell? Contact us with your idea for a blog post on pacpark.com.