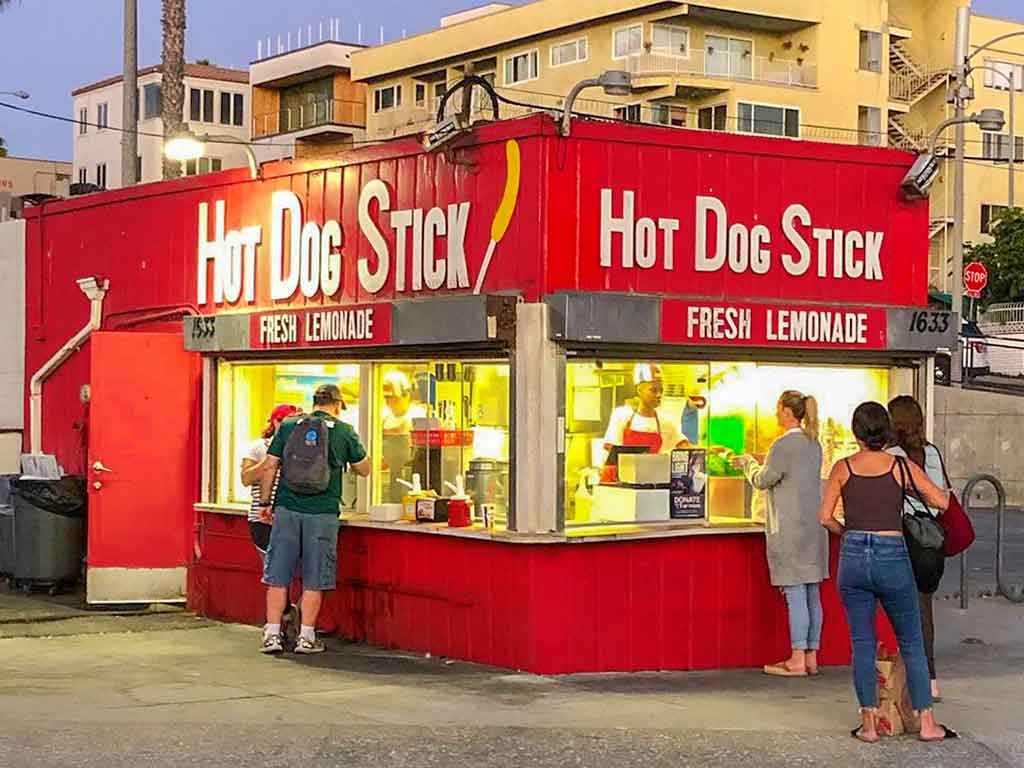 Hot Dog on a Stick
Contact
Overview
Hot Dog on a Stick is an authentic, Santa Monica Pier original serving fresh-made corn dogs, crushed lemonade, and old-school cool.
You can enjoy a convenient treat for walking along the beach path at the cute little red stand behind the Pier that's been serving their original recipe for batter-dipped dogs and crushed lemonade for over 70 years. Hot Dog on a Stick has been an icon to the Santa Monica Beach, original Muscle Beach, and Pier area since opening in 1946. Originally called Party Puffs, the stand first served ice cream cones and lemonade but after the owner and creator, Dave Barham, perfected the recipe of dipping hot dogs in his mom's cornbread recipe – thus the name "corn dog", Hot Dog on a Stick was born.
Since then, the brand has expanded to 70 stores in 7 states. You can expect the same high-quality corn dogs and lemonade at each and every store you visit, along with the their eye-catching fun and bright uniforms and friendly customer service.
Feature image courtesy of @travelwithcaylin.
Menu
Here are a few favorites that guests love:
Hot Dog on a Stick
Cheese on a Stick
Funnel Cake Sticks
Hand-stomped lemonade
Note: Menu and offerings vary by season and availability. See the full Hot Dog on a Stick Santa Monica menu.
For hours, group information, and other inquiries, visit www.hotdogonastick.com.
Discover More
Looking for more food options on the Pier? We have so much more to offer on-the-go and dine in.