Japadog Santa Monica Pier
For a fun, quick bite that's considered one of the hot places to eat on the Santa Monica Pier by celebrities from around the world, stop by the JAPADOG cart. You'll get tasty and creative take-away meals that you can hold while strolling along the Pier. This street food vendor is one of the most popular — and delicious — food vendors Santa Monica has to offer.
JAPADOG started in 2005 as a dream of a Japanese couple who moved to Canada with a love of hot dogs and cold beverages. Within just a few years, they were winning awards and gaining fame as much for their innovative menu as for their infectious positive attitudes. They have locations in Vancouver, New York, and California.
There are plenty of interesting combinations from JAPADOG Santa Monica, where East meets West with Instagram-worthy presentations. Memorable combinations use ingredients like Terimayo sauce, plum sauce, kimchi, tonkatsu sauce, and flavored rice. It's possible to choose from bratwurst, all-beef hotdogs, kurobuta pork, turkey sausage, veggie dogs, and cheddar smokey. Get daring and try something new!
To wash it down, be sure to order a soda, green tea, or Ramune, which is a carbonated soft drink that's popular in Japan. You'll never know what exciting flavor — wasabi, kimchi, bubble gum, or even curry — they'll have on hand. The original flavor is a colorless, lemon-lime soda. By the way, to open those bottles, you'll want to remove the wrapping and take the clear plastic top apart before using the smaller middle part to pop open the bottle with your palm.
You'll find plenty of rave reviews online about this small-and-mighty cart, which surprises guests with textures and flavors that are almost guaranteed to be something they've never had before. The hot dogs are known for being big and juicy, offering the highest quality ingredients cooked to perfection for a meal that's truly special.
Beyond the menu, the employees of JAPADOG are famous for their great customer service and winning smiles. Not only do they aim to provide something yummy, but also "dreams, excitement, and happiness." That's a winning complement for a visit to the Santa Monica Pier. It's a perfect way to enjoy the evening or afternoon with friends, family, or a date before having a blast on the iconic rides of Pacific Park.
Feature image courtesy of @kitcoke.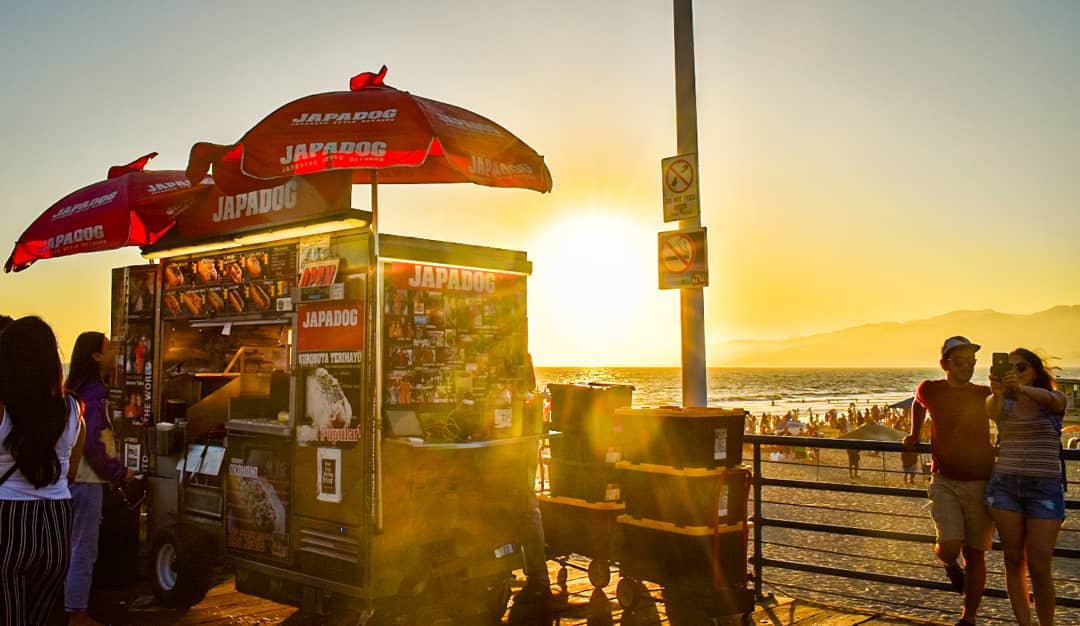 Kurobuta Terimayo – Best-seller, combines a juicy kurobuta sausage with the flavors of terimayo sauce.
Avocado – Classic California taste, Japanese-style. Avocado, cream cheese, Japanese mayo and soy sauce.
Okonomi – Traditional Japanese dish on a hot dog. Kurobuta sausage topped with cabbage, sauce and bonita flakes.
Plain beef, turkey, or veggie hot dog.