Pier Burger Santa Monica Pier
For those seeking burgers, Santa Monica Pier offers the perfect spot. Pier Burger is a single-story counter-serve burger shack with indoor and covered outdoor dining. It has a walk-up window as well—highly recommended if you're not dining in, especially during the busy summer season.
This super-popular restaurant serves up a variety of juicy burgers along with fries, hot dogs, crispy chicken, fish sandwiches, shakes, floats, and frozen custard. Pier Burger has been a Santa Monica Pier staple since 2012, with a prime location next to iconic Route 66 End of the Trail—the sign marking the end of one journey and the start of another: the Santa Monica playground.
You'll find easy access to several parking lots, including Lot 1 North on Appian Way and a small parking area on the Pier Deck. You're also right around the corner from Pacific Park on the Santa Monica Pier, where you can go on the amusement park rides and test your skills at the midway games.
When you step into Pier Burger, you're surrounded with vintage ambiance—a throwback diner where the meals are hearty and the memories are endless. The restaurant faces onto the Pier, so you'll see Santa Monica State Beach and the wide Pacific Ocean as you exit with a belly full of burger goodness.
The outdoor covered seating features picnic tables to dine at and carries the fresh sea breeze, so even without a direct ocean view you know you're right at the water's edge. Indoors, you'll find a handful of tables and chairs, and on most days, long lines of hungry diners waiting to order or pick up their food from the counter. Just outside are a few stand-up tables—no chairs for these spots, but you'll get an awesome view of the water when facing the boardwalk. As visitors will tell you without hesitation, this is one of the best places to eat on the Santa Monica Pier.
Pier Burger is the first burger biz and restaurant on the Pier for King's Seafood Company, which has been a Southern California operation since 1984. They opened Pier Burger in 2012 to expand into more land-based cuisine, all while maintaining their nod to fresh-caught seafood—which you can enjoy with Pier Burger's white sea bass sandwich.
Each burger at Pier Burger features a light and fluffy potato bun and a hand-formed patty made from 100 percent Angus beef. Get the single burger slathered with melted cheese, or opt for the double if you're starving after a day of play. And for those of you who love the meatless variety, there's a veggie burger with your name on it.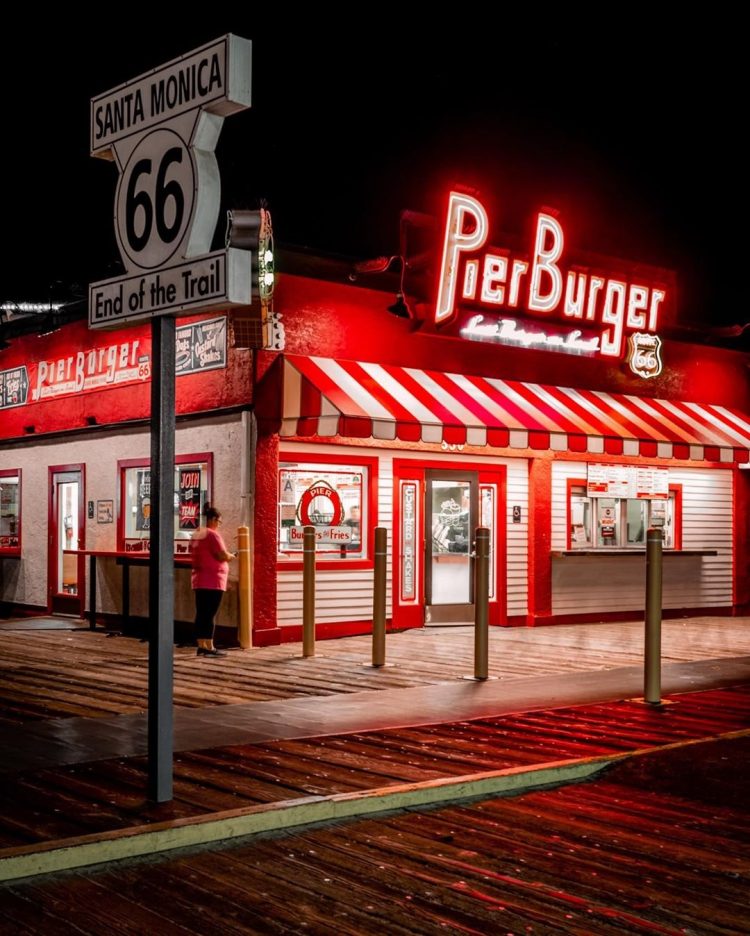 Menu
Hamburger/cheeseburger
Local white fish sandwich
Hot dogs
French fries
Ice cream concretes and shakes
*menu and offerings vary by season and availability. See the full Pier Burger menu. For hours, group information, and other inquiries, visit www.pierburger.com.