Rusty's on the Santa Monica Pier
With a mix of food, music, and beer, Rusty's Surf Ranch has been a go-to restaurant on the Santa Monica Pier since 1996. With a laid-back, casual atmosphere and ample outdoor seating, Rusty's Santa Monica restaurant is the perfect place to relax for a bite to eat after—or during—a memorable day at the beach.
More than just a place to grab a bite to eat, Rusty's is famous for its live music. Each year, the restaurant hosts the annual Emerging Artists Competition, where up-and-coming bands prove themselves during 30-minute sets. Winners in the past have earned the opportunity to play at the Twilight Concert Series, where Pier guests enjoy free music on Thursday nights throughout the summer. If you want to check out Los Angeles's budding music scene, Rusty's is one of the best bars in Santa Monica to get a taste of the action.
If you're looking for places to eat on the Santa Monica Pier with unique decor, head inside Rusty's to find a collection of 19 vintage surfboards hanging on the walls and ceiling. With boards dating back to the 1960s, the unique collection gives you a taste of Santa Monica's traditional beach-bum culture.
Rusty's is a great place to celebrate special occasions such as birthdays, weddings, or work parties. The restaurant offers a host of dining configurations, from personal, intimate dining tables to larger areas perfect for dancing. Rusty's can entertain up to 5,000 guests with a spacious dance floor, top-of-the-line sound system, live performance stage, and six big-screen TVs throughout the venue. If you want to book a special event, Rusty's can work with you to develop a customized menu tailored to your guests.
The restaurant recently underwent a $500,000 renovation, which included the addition of a second-level patio. After the Santa Monica City Council voted to keep Rusty's at the Pier, the restaurant will be a fixture in Santa Monica for years to come. As Santa Monica City Councilwoman Gleam Davis said in 2012, "Rusty's is part of our history."
Feature image courtesy of @elyssiahummel.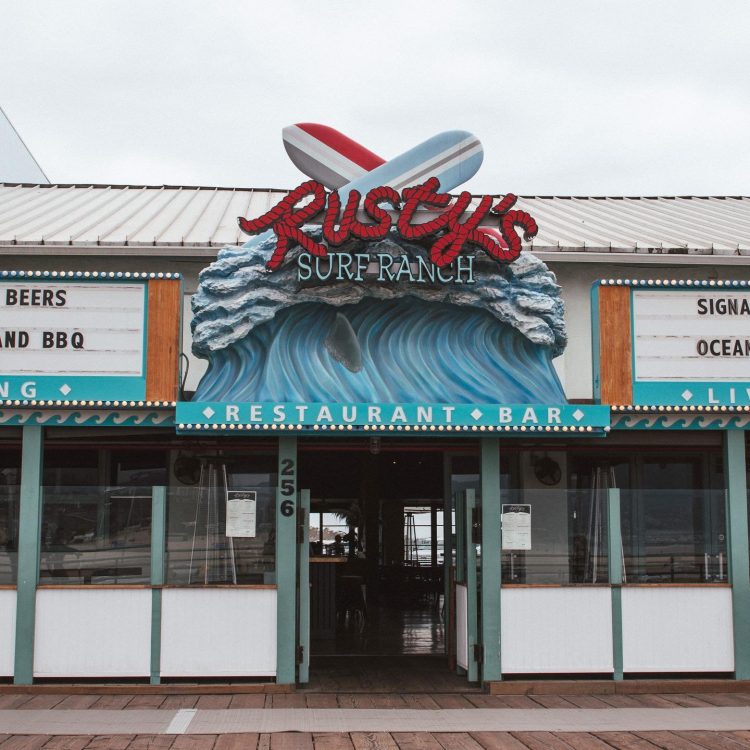 Menu
BBQ Chicken
Market salad
Sandwiches and burgers
Chicken wings
*menu and offerings vary by season and availability. See the full Rusty's Surf Ranch menu. For hours, group information, and other inquiries, visit www.rustyssurfranch.com.