From oceanside, sit-down restaurants to grab-and-go snacks and picnic to-go kits for dining on the sand, there is a food paradise to be found on the Santa Monica Pier.
Wanna know the best local shareable food on the pier? Believe it or not – it's the funnel cake! Commence happy dancing! Although a fried, ecstasy-inducing dessert, the average funnel cake is less than 300 calories. Powdered sugar is the traditional topping but in medieval times, they would pour sugar syrup on the cakes and then sprinkle a little – SALT on top. Mind blown.
At Pacific Park, they are served at the Funnel Cake Factory and Scoops Ice Cream and Treats and can be topped with strawberries, whipped cream, and even a scoop of your favorite Lappert's Ice Cream.
Spread s'more love. Visit Soda Jerks in the Carousel building for the Vanderbilt Cup S'mores Sundae. Two scoops of vanilla topped with hot fudge then marshmallow. Finished with crushed graham crackers whipped cream and a cherry. Stick around for a behind-the-scenes tour with sampling, a demo of making a hand-pumped Cherry Coke, a classic chocolate ice cream soda, and a Brooklyn New York favorite Chocolate Egg Cream. To top it off, indulge in a sundae or special treat. Reservations are required for the tour.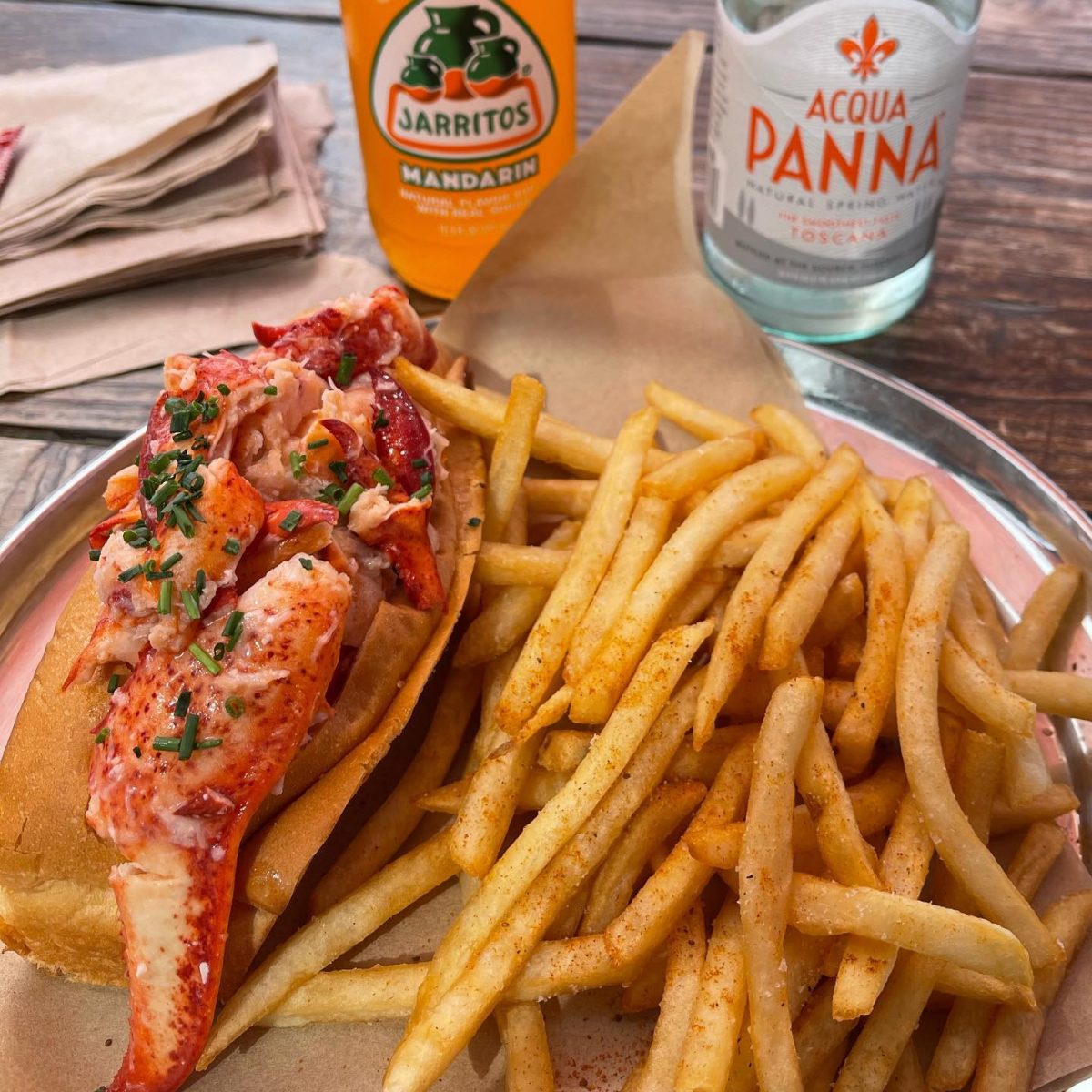 Yunnie Kim Morena took the helm of The Albright which her parents had opened in 1977 upon emigrating to the U.S. from Korea. She and her husband, Greg Morena, modernized and streamlined the look while preserving the restaurant's original atmosphere and character. The relaxed seaside setting is a perfect complement to the delicious menu that reflects a commitment to sustainably caught seafood, and locally sourced ingredients, as well as an extensive craft beer and California wine program.
Pack a picnic with the Lobster Roll, Crab Roll & Shrimp Roll Kit, and a seafood trifecta! The kits are a must-try award-winning classic with iconic, flavorful, and mouth-watering tastes sure to become a favorite. Options include Connecticut or New England style. When dining in, the Seafood Platter is a must. The chilled seafood on ice is a dazzling array of King Crab Legs, scallops, raw oysters, mussels, shrimp, and clams.
The sounds of waves slapping the beach, a view of the Pacific coastline from Malibu to the South Bay, and sipping at a mega grande margarita is the ultimate West Coast vibe. MariaSol Sunset Catina's use of distinctive Mexican sauces, flavorful peppers, and fresh fish recalls the festive cantinas of Cabo San Lucas and Puerta Vallarta. A house favorite, the Sombrero Salad has marinated chicken breast, spring mix lettuce, black beans, fresh roasted corn, tomatoes, and avocado in a jalapeno ranch dressing topped with a Cotija cheese and queso fresco blend and served in an open tortilla bowl. Ahh – this is a good life.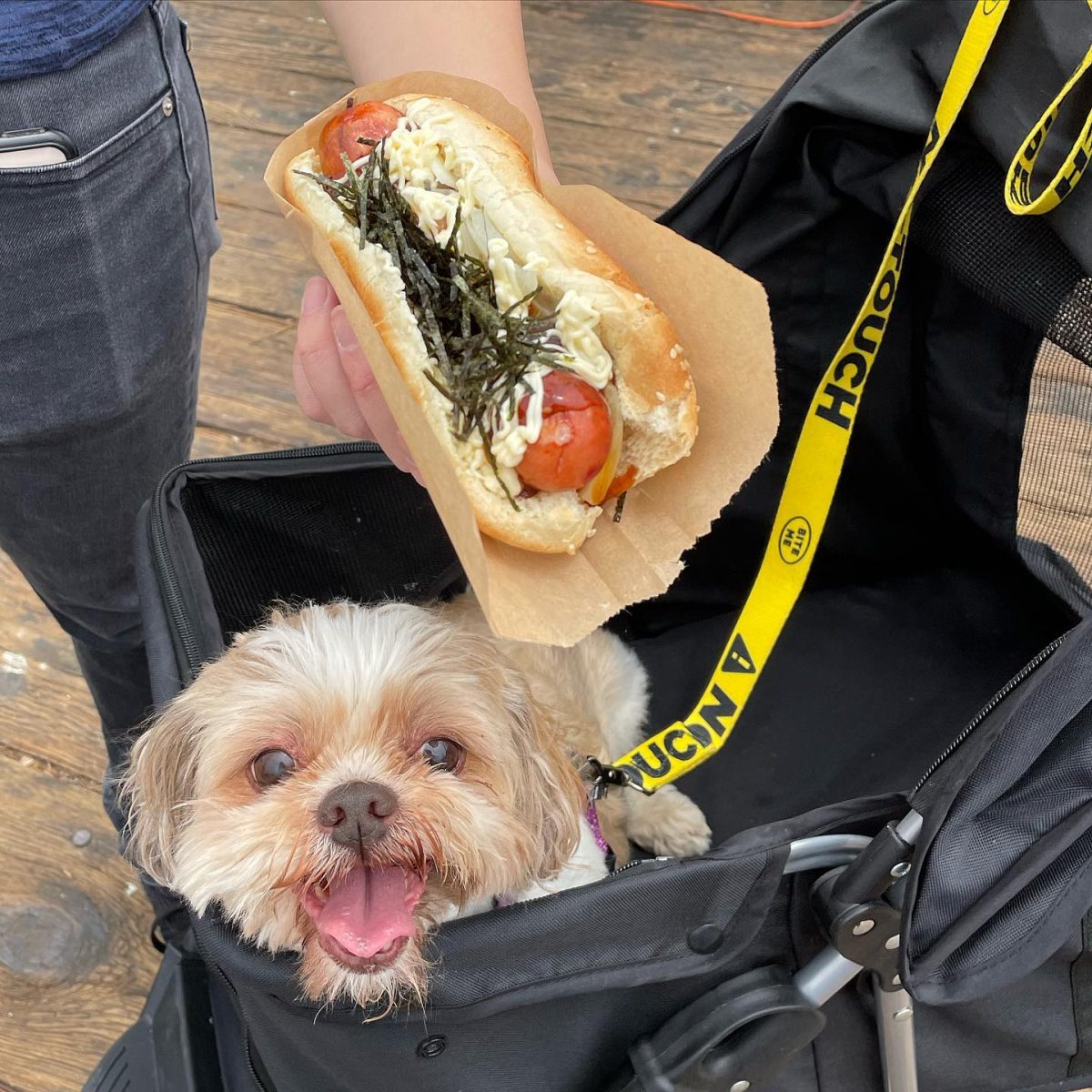 The nose knows. The intoxicating scents coming from Japadog will have you drooling. A Japanese hot dog, you say? Yup. What began as a food truck is a unique stand-alone kiosk experience offering Japanese-style foods such as a hot dogs or sausage. When you bite into the Terimayo, their signature dog, you taste the Teriyaki sauce, the seaweed topping, and mayo drizzle in every bite.
One of the most refreshing treats on a warm sunny day is the simplest thing imaginable.
Chopped fresh fruits like cantaloupe, watermelon, honeydew, papaya, coconut, and more are available Mexican-style with a chili powder or Tajin sprinkled on top. Try a mango on a stick with Tajin, a tasty blend of mild chili peppers, lime, and sea salt that enhances the flavor of fruits and veggies. The Downtown Food Commissary kiosk is located across from the main entrance to Pacific Park.
At the foot of the pier, is a chill sports bar with 23 TVs where the locals and tourists meet and party. Big Dean's Ocean Front Café is a perfect spot for a pre-or post-beach time, it's a great place to grab a burger, a beer or hang with the family. Try Big Dean's Cheeseburger, the burger that made Santa Monica famous is a mouth-watering stack of double meat and double cheese with Dean's special sauce, lettuce, tomatoes, pickles, and raw or grilled onions.